Ghosn's Detention Extended Amid Calls for More Transparency
(Bloomberg) -- Japanese prosecutors extended the detention of former Nissan Motor Co. Chairman Carlos Ghosn, heightening tensions before French President Emmanuel Macron and Japanese Premier Shinzo Abe meet in Argentina to discuss the affair.
Under the extension granted by a Tokyo court, Ghosn will spend up to 10 more days in jail, people familiar with the matter said, asking not to be identified as the information isn't public. Ghosn was arrested Nov. 19 upon landing in Tokyo. Nissan, the carmaker he helped resurrect, accused him of financial crimes, including understating income and misusing company funds.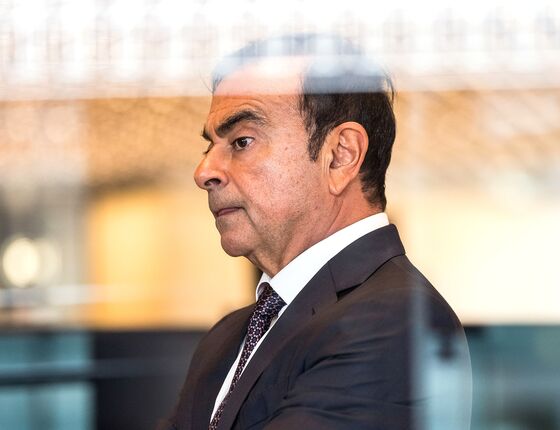 Locked in a small room with a toilet and a wash basin, the former high-flying executive's arrest has raised concerns about the future of the powerful auto alliance he stitched together with Nissan, Renault SA and Mitsubishi Motors Corp. His arrest has sown discord between the corporations he once headed and raised questions about how transparent Japan has been in disclosing details of his alleged misdeeds.
Macron and Abe will discuss Ghosn's detention and the Renault-Nissan alliance during a meeting Friday on the sidelines of the Group of 20 summit in Buenos Aires, according to the French president's office. The French state is the largest shareholder in Renault, with a 15 percent stake.
Prosecutors have to decide whether or not they'll indict Ghosn by Dec. 10, though re-arresting him on suspicion of a different violation would start the detention period again.
Shin Kukimoto, deputy chief prosecutor at the Tokyo District Public Prosecutors Office, said Thursday he's aware of the criticism of Japan's legal system that has come to light after the Franco-Brazilian executive's arrest. He said the treatment of all suspects has been in full accordance with the law.
Not a whole lot of details have emerged of the allegations against Ghosn, though Nissan said its own investigation revealed he under-reported his income and misused company assets. Ghosn hasn't been seen in public since the arrest and earlier this week, through a lawyer, he denied an accusation of passing on his trading losses to the Japanese carmaker.
Ghosn's deferred income ballooned over the past eight years as he sought to downplay his compensation in front of shareholders, a practice that was a focus of the investigation that led to his arrest, people familiar with the probe have said. The compensation deferred until his retirement has emerged as a key point of contention, with Ghosn telling colleagues that he acted appropriately by not including it in regulatory filings, the Wall Street Journal reported on Sunday.
Japan's criminal-justice system lacks many of the protections defendants receive in the U.S. and Europe. Prosecutors may hold him for up to about three weeks without charge, and in that time his lawyer will probably not be present during what are likely to be lengthy and repeated interrogations. He does have access to a translator during questioning.
Ghosn asked his lawyers to bring a turtle-neck sweater to keep himself warm, a person familiar with the situation said, asking not to be identified discussing private matters.
Prosecutors are almost certain to proceed to an indictment after making such a high-profile arrest, said Nobuo Gohara, a lawyer and former prosecutor who specializes in financial law. If convicted, Ghosn could face up to 10 years in prison, prosecutors have said.
Nissan's board sacked Ghosn as chairman within days of his arrest while Renault, its partner and largest shareholder, decided not to remove him as the chief executive officer and instead appointed an interim leader. Renault said at the time that it didn't have enough information to remove the embattled executive.
On Thursday, Renault, Nissan and Mitsubishi Motors said their CEOs will jointly lead their automaking alliance for now, splitting a role maintained by Ghosn for two decades. The three chiefs are "completely aligned on direction," Nissan CEO Hiroto Saikawa told reporters.