Ghosn's Deferred Pay Ballooned After Shift in Rules
(Bloomberg) -- Carlos Ghosn's deferred income ballooned over the past eight years as he sought to downplay his compensation in front of shareholders, a practice that was a focus of the investigation that led to the car titan's arrest, according to people familiar with the probe.
Japan started requiring executive pay be made public in 2009 amid investor backlash against high salaries. Since then, Nissan Motor Co. committed to pay Ghosn more than 8 billion yen ($70 million) in income deferred until his retirement, said the people, asking not to be named discussing information that isn't public.
Last year, the total compensation swelled to a record 2.5 billion yen, with Ghosn -- who was dismissed as Nissan's chairman following his arrest -- accumulating the deferred funds for collection after retirement, one person said.
Compensation is at the heart of the allegations against Ghosn, whose shock arrest on Nov. 19 in Tokyo has rocked the powerful auto alliance he created between Nissan, Renault SA and Mitsubishi Motors Corp. The French-Brazilian executive is being detained in a Japanese jail for understating his income and misusing Nissan assets, according to the carmaker, which undertook an investigation into the alleged misdeeds after they were flagged by a whistle-blower. Prosecutors say the crimes could carry a jail term of up to 10 years.
A representative for Ghosn and a Nissan spokesman both declined to comment on the deferred income. Earlier Wednesday, Ghosn through his lawyer denied a separate accusation reported by Japanese media that he passed on personal trading losses to the carmaker, his first comments since the arrest.
The deferred compensation has emerged as a key point of contention, with Ghosn telling colleagues that he acted appropriately by not including it in regulatory filings, the Wall Street Journal reported on Sunday. Ghosn, who has also been ejected as Mitsubishi's chairman amid the scandal, told Tokyo prosecutors that written agreements with Nissan to defer part of his pay aren't valid because he didn't sign them, Kyodo reported Wednesday.
Ghosn's compensation -- as reported by Nissan in regulatory filings -- dropped by about half after the new rules came into place requiring all executive and director pay above 100 million yen a year to be disclosed, according to the people familiar with the probe. He was paid 891 million yen for the year ended in March 2009, the first year that the Japanese carmaker was obliged to report his salary.
Nissan filings show Ghosn's annual compensation in recent years was reported at roughly 900 million yen to 1 billion yen, before it fell sharply last year after he rescinded his role as the company's chief executive officer.
Prosecutors are investigating whether the annual amount of deferred pay was fixed each time the documents were created, because Japanese law requires remuneration to be reported in the year it's fixed even if actual payment doesn't take place that year, Kyodo said.
Only a small group of people, including Greg Kelly -- the former Nissan representative director who is also under arrest in Japan -- was aware of the deferral arrangement, the people Bloomberg News spoke to said. Nissan's internal investigation suggests that even its auditors weren't aware of the practice, one person said.
The total compensation of Nissan's board has been capped at 3 billion yen since 2008, when shareholders decided to introduce that limit. That means other board members' pay hasn't reached anywhere near the levels of Ghosn's remuneration. Hiroto Saikawa, Ghosn's successor as CEO and a board member, earned about 500 million yen last year.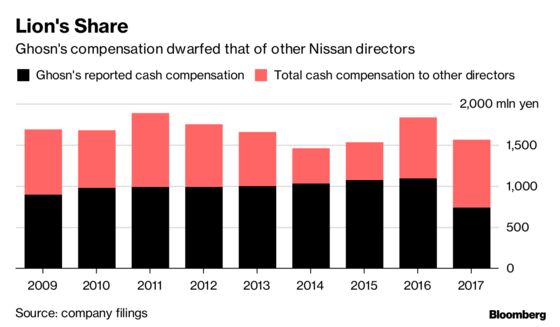 Nissan's corporate governance report says the chairman determines the compensation of each director, without the input of an independent advisory committee. That determination, the company said, is based on comparisons with other companies as well as consultation with the two representative directors, recently Kelly and Saikawa.