Ghosn Had Reason to Seek His Protege's Ouster
(Bloomberg Opinion) -- As the plot thickens in the story of Carlos Ghosn's downfall, another motive has emerged for the Nissan Motor Co. chairman's sudden ouster.
The revelation that Ghosn had been planning to remove his former protege provides grist to those who regard the executive's dismissal as a palace coup. Saikawa expressed "anger and despair" at a press conference on the day of Ghosn's detention. The investigation had been proceeding under wraps for several months.
If the alleged misdeeds caused Saikawa to sour on his mentor, then Ghosn also had reason to be dissatisfied with his hand-picked successor as CEO. In all the questions and theories swirling around Ghosn's actions, his arrest and the dismal state of Nissan's corporate governance, there has been one glaring omission – the grim state of its business.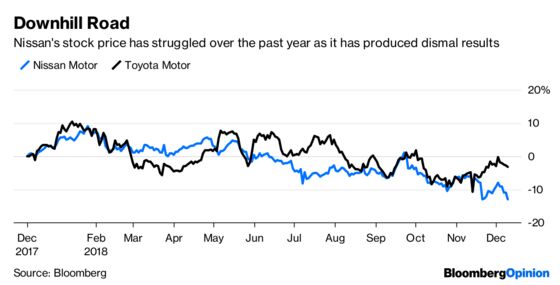 Ghosn is all about targets, as he's often said. Since the alliance with Renault SA began in 1999, Nissan had taken on five so-called mid-term plans with targets for operating margins and cost reductions. Under the latest six-year plan that started in April 2017 (when Saikawa became CEO), goals included revenue growth of about 30 percent to 16.5 trillion yen ($147 billion), free cash flow for the auto business of around 2.5 trillion yen and an operating margin of 8 percent.
Nissan couldn't be further away from these numbers. Operating margins have hovered around 6 percent since 2012, and in recent quarters have fallen as low as 2.8 percent. Revenue has slowed sharply and free cash flow has been volatile. In press conferences, Saikawa avoided talking about the targets.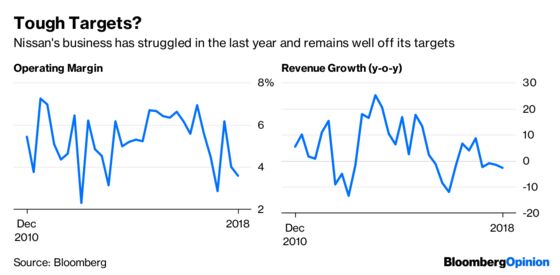 Business in the U.S. has cratered in the past year, with sales down almost 20 percent last month and passenger cars falling more than 30 percent, despite aggressive sales incentives. Nissan has lost more market share in the U.S. than any other carmaker and its dealer inventories remain above those of most peers. In China, the company hasn't been able to keep up with Japanese competitors Toyota Motor Corp. and Honda Motor Co.
Nissan has long boasted of its mastery of technology for autonomous vehicles and electric cars, and asserts that it's well-equipped for the future of transport. But it failed to spin off its lithium-ion battery business, which has fallen behind the rapid advances in battery technology. Add to that the poor business performance, a slew of inspection scandals, irregularities in measuring emissions and recalls for fire risks and other issues, and the company's future looks bleak.
Part of Ghosn's legacy is the Renault-Nissan-Mitsubishi alliance that's almost two decades old. Speculation now abounds on the partnership's future. Saikawa has said an all-out merger doesn't make sense but re-jiggering the balance of power in capital between the companies could be an option.
That's a complex process involving many vested interests. For instance, it isn't clear how the companies can deepen their capital ties without management getting intertwined.
With Ghosn having been the glue that held the alliance together, his exit may ultimately prove a sub-plot in its unwinding.
The 64-year-old executive had been looking to cement his legacy in the annals of auto history. Instead, its business deteriorated in his last year and the alliance he championed is in doubt. It's no surprise then that he was looking to oust Saikawa, and quickly.
This column does not necessarily reflect the opinion of the editorial board or Bloomberg LP and its owners.
Anjani Trivedi is a Bloomberg Opinion columnist covering industrial companies in Asia. She previously worked for the Wall Street Journal.