Ghani Seeks Re-Election to End War as Taliban Tightens Grip
(Bloomberg) -- Afghan President Ashraf Ghani has revealed he is seeking re-election next year to "finish the job" of bringing to an end the 17-year war that's maimed and killed tens of thousands of people and cost the U.S. more than $900 billion.
The Taliban and other terrorist groups are trying "to turn our beautiful country into a breeding ground of violence," Ghani, 69, said in an interview on Thursday in his office in Kabul, adorned with a huge portrait of an 18th century king widely regarded as the founder of Afghanistan. "We have to pursue peace, a lasting, just and sustainable peace."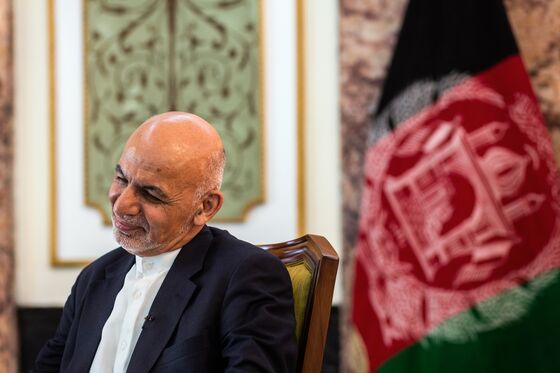 He said democratic stability was his priority. "The elections must produce a leader with a mandate to move Afghanistan forward, put an end to the inherited crises of the last 39 years."
Forty percent of Afghans live below the poverty line, Ghani said, adding that job creation and the development of labor-intensive industries were vital to the country's future.
Both Ghani and the U.S. are struggling to bring the Taliban to the negotiating table. The resurgent militant group controls or contests almost half of the nation's territory, and is increasingly displacing people and using narcotics to fund its deadly campaign, which wounded or killed more than 10,000 Afghan civilians last year alone.
U.S. President Donald Trump earlier this year ordered that peace talks be jump started to end his country's longest war. His administration appointed Zalmay Khalilzad in September as an U.S. envoy on Afghan reconciliation.
Soon after, Khalilzad met with Taliban leaders in the Qatari capital, Doha, to discuss peace and the release of Taliban prisoners, according to Taliban spokesman Zabihullah Mujahed. The meeting worked. The Pakistani government, accused of supporting the group in Afghanistan, released the deputy and co-founder of the Taliban, Mullah Abdul Ghani Baradar, who many Afghans see as a supporter of talks, after he spent eight years in prison. Pakistan denies helping the militants.
For more on the U.S. talks with Taliban militants, click here
Although the militant group met the U.S. envoy, it has repeatedly rejected Ghani's offer for direct talks because it deems his government as illegitimate. The Taliban said it will only hold direct talks with Ghani after the withdrawal of American forces from the war-torn country, something that has been rejected by the U.S. and Afghanistan.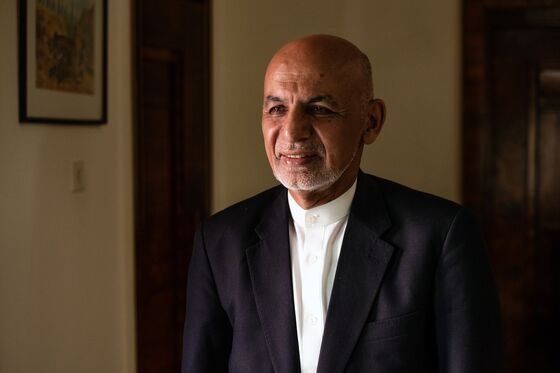 Meanwhile, Ghani's government is increasingly losing its territory to the militants. The administration controlled or influenced about 55.5 percent of Afghan districts as of July, the least since November 2015, the U.S. Special Inspector General for Afghanistan Reconstruction said late Wednesday in its quarterly report. And after $8.9 billion in U.S. counter-narcotics appropriations, poppy production surged in 2017 and is now four times higher than in 2002, the year after American forces invaded to topple the Taliban.
Ghani has to also contend with rivalry between two global powers. He wants to include Russia as a "partner" in fighting terrorism in his country, but the U.S. declined to take part in the Russian-led peace discussions in August. The talks were later postponed.
"We need to bring us all to a level of cooperation, not confrontation," Ghani said. Lasting peace will help the mineral-rich nation pull people out of poverty, he said.
The U.S. is paying billions of dollars for Afghan soldiers to fight the Taliban. Three quarters of Afghanistan's national budget is provided by the U.S. and other international donors. Ghani wants to tap the country's mineral wealth -- estimated at between $1 trillion to $3 trillion -- to wean the country off foreign aid.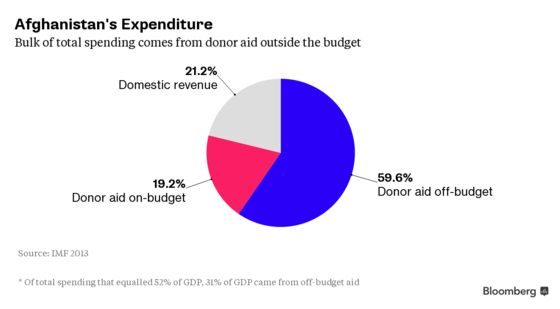 Afghanistan has the world's largest mineral resources of copper, iron, lithium, gold, silver, and rare-earth elements.
"For the first time in 40 years we have really been focusing on developing our natural wealth and creating the financial instruments and connecting to the region," Ghani said. "Afghanistan cannot be a burden on the international community and it has to become an asset. That means by 2024, we have to able to pay for our security."