Ghana Sees 'Significant Challenges' From Global Rate Increases
(Bloomberg) -- The global policy tightening cycle could cause "significant challenges" for Ghana after the nation cut its key lending rate to a four-year low, central bank Governor Ernest Addison said.
Ghana's Monetary Policy Committee reduced its policy rate by 900 basis points in the past two years, with the most recent move in May after inflation slowed to the lowest rate in at least five years. While price growth has since picked up, it remains inside authorities' 6 percent to 10 percent target band.
He is "not sure" the U.S. Federal Reserve is paying enough attention to the effect of its policy moves on economies such as Ghana, Addison said in an interview with Bloomberg TV on Tuesday.
"We are bracing ourselves for" more Fed rate hikes, he said. "It's in anticipation of that that the policy rate was held at the last two meetings of the Ghana policy committee."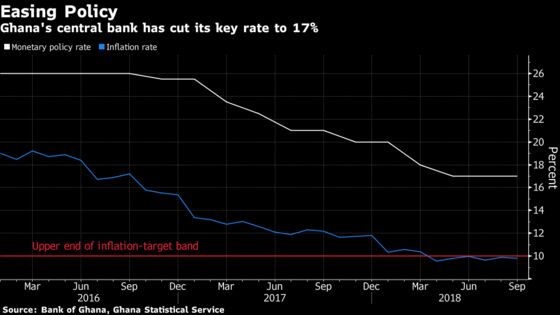 While the West African nation's inflation expectations are well-anchored, rising oil prices and a weakening cedi pose a threat to the outlook, he said.