Ghana's Economy Is Now 25% Bigger After Data Overhaul
(Bloomberg) -- Ghana's economy is almost a quarter bigger than previously estimated after the West African nation's statistical agency changed its base for measuring gross domestic product.
The country's GDP at current prices measured 257 billion cedis ($52.5 billion) in 2017, Baah Wadieh, acting government statistician at the Ghana Statistical Services, told reporters Friday in the capital, Accra. That's 25 percent bigger than the previous estimate of 206 billion cedis.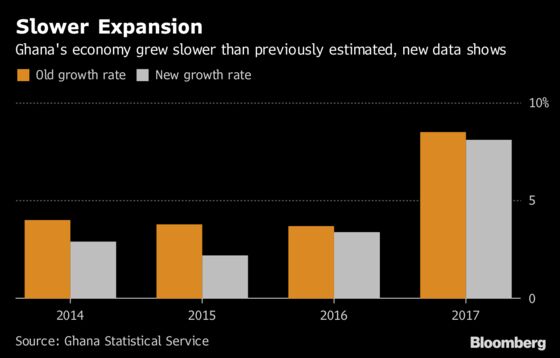 The statistical agency changed its base year to 2013 from 2006 and included new data sources to better reflect the structure of the economy. It remeasured the gross domestic product for every year from 2013 and lowered 2017 output growth to 8.1 percent from 8.5 percent.
Nigeria, Kenya and Tanzania revised all their GDP data in 2014, resulting in increases of 25 percent to 75 percent in the size of those economies. Senegal's remeasurement this year showed the economy was almost a third bigger.