Ghana's Budget Seen as Fiscal Test as Century Bonds Planned
(Bloomberg) -- When Ghana presents its 2019 budget Thursday, all eyes will be on whether the world's second-biggest cocoa producer can maintain fiscal discipline as it concludes an International Monetary Fund bailout program while seeking to sell Africa's first century bond.
After taking office last year, President Nana Akufo-Addo sought to halve the budget deficit to as little as 3 percent of gross domestic product by 2021. While there's been great improvement, it may be difficult to keep narrowing the gap, with the country missing its tax-collection goals for the first eight months of this year after falling short of the target for 2017.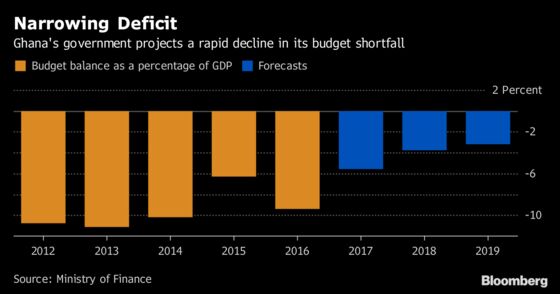 The country will keep subjecting public finances to IMF scrutiny after its bailout program with the lender ends in April, Finance Minister Ken Ofori-Atta said in August. A month later, the revenue authority said it missed the tax-collection target for the first eight months of this year by 7.4 percent, or $371 million.
What Our Economists Say...

"The recent rebasing of nominal GDP has confirmed that Ghana remains below peers like Kenya in terms of government revenue as a percentage of GDP. The last few years have seen a further slippage in this area, with both direct and indirect taxes dropping."
-Mark Bohlund, Bloomberg Economics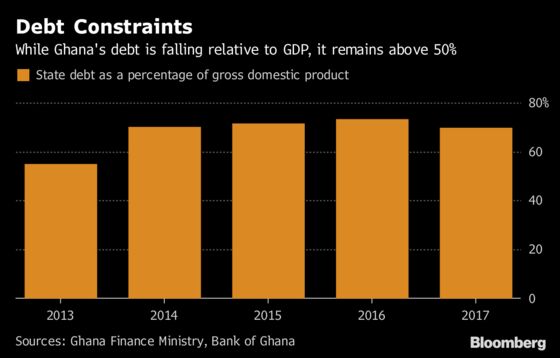 Ghana will find it harder to raise cash to finance its budget deficit as investors' appetite for risk is waning, with U.S. rates increasing and the dollar strengthening. The nation plans to issue as much as $50 billion of 100-year bonds as revenue from its new oil fields rises, and will sell $3 billion to $7 billion annually, Ofori-Atta said last month.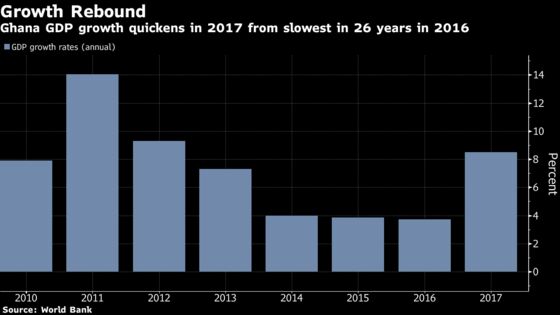 Economists see GDP expanding 6.5 percent in 2019 from 6.8 percent this year, a Bloomberg survey in August showed. The government is optimistic of growth as programs to boost agricultural and factory production will complement an increase in oil and gas production at fields operated by Tullow Plc. The statistics agency overhauled its GDP data this year and a report published in September showed the economy is almost a quarter bigger than previously estimated.