Getinge Slides Most in Four Years on Provision for Mesh Lawsuits
(Bloomberg) -- Getinge AB slumped the most in four years after the Swedish maker of medical equipment set aside an unexpectedly large sum, 1.8 billion kronor ($200 million), to cover costs related to lawsuits against surgical-mesh implants sold by a subsidiary in the U.S. and Canada.
The shares dropped as much as 16 percent to 77.54 kronor in Stockholm trading, the steepest decline since March 2014. The stock has plummeted 38 percent in the past 12 months, making it the worst performer on Sweden's benchmark OMXS30 index.
A maker of equipment for hospitals, Getinge faces about 900 lawsuits as patients claim they faced complications and injuries after receiving the polypropylene mesh sold by its subsidiary Atrium Medical Corp. in surgical procedures such as hernia repairs, the company said in a statement late Sunday.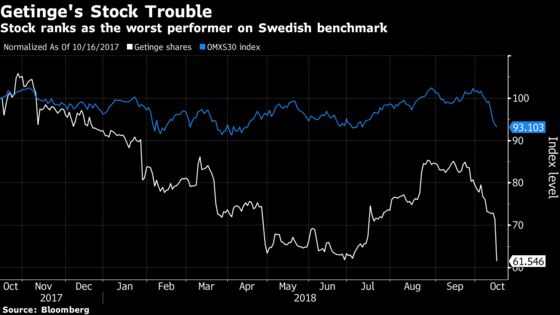 "The provision today materially exceeded our expectations," Michael Jungling, an analyst at Morgan Stanley, said in a note to clients. "We view the legal developments as another setback to the company's ability to focus on its core business and turn around years of poor performance."
The provision should cover all current and future costs related to the Atrium Medical mesh claims, Chief Executive Officer Mattias Perjos and Chief Financial Officer Lars Sandstrom said on a conference call on Monday. They also said they're confident that the company won't need to issue any new shares to raise funds and reiterated the dividend policy.
The first trials will likely take place late next year and "the claims are being vigorously defended," the company said. Atrium Medical is evaluating the future of the surgical-mesh business.
The provision represents about 8 percent of Getinge's current equity value, excluding tax benefits and any liability insurance, according to Morgan Stanley. In 2017, Getinge reported an operating profit of 1.49 billion kronor.