Geron Plunges 68% After J&J Ends Partnership That Had Ignited Stock
(Bloomberg) -- A stellar year for Geron Corp. investors went up in smoke Thursday as shares plummeted on news that Johnson & Johnson will end a licensing partnership and return rights to the biotech company's sole product candidate.
Geron slid as much as 76 percent as the market opened, dropping to $1.99 at 9:44 a.m. in New York. The move wiped out $750 million in market value, which is more than the total value ascribed to a third of the companies in the Nasdaq Biotechnology Index.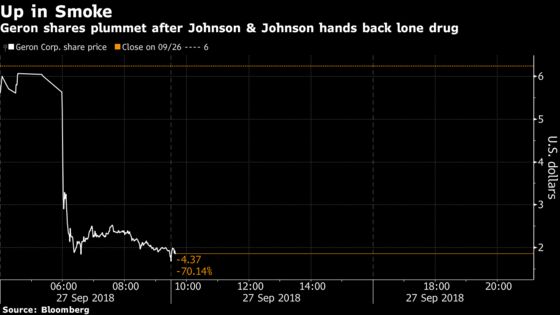 Geron, which had gained more than three-fold this year, touched its lowest level in four years on Thursday. Speculation on the potential for the drug, imetelstat, and the pair's collaboration efforts had spurred volatility in the Menlo Park, California-based company's shares. Updates from mid-stage studies in bone marrow disorders helped influence the decision by J&J's Janssen division.
"These drugs work, but the question is how big of a market will it address?," B Riley FBR analyst George Zavoico said of imetelstat in a phone interview. "It's clearly not big enough for Janssen's interest."