Firing Bankers in Germany Is About to Get Easier in Brexit Era
Germany is making it easier for lenders such as Deutsche Bank AG and JPMorgan Chase & Co. to fire top earners, adding flexibility for Frankfurt to lure financial companies unsettled by Brexit.
Lower-house lawmakers in Berlin voted Thursday in favor of loosening German labor standards to allow the change. The government says it'll apply to a maximum of about 5,000 bankers, categorized as "risk takers," who earn some 220,000 euros ($249,000) a year or more.
Chancellor Angela Merkel's governing coalition backed the measure, arguing it's needed to strengthen the stability of Germany's finance sector and "minimize the risks" from individuals whose actions could cause fallout for their company.
"This is a positive signal to strengthen the competitiveness of Germany as a location of choice for the financial industry," said Andreas Krautscheid, chief executive at the Association of German Banks. The change "will increase the attractiveness for foreign companies," he said.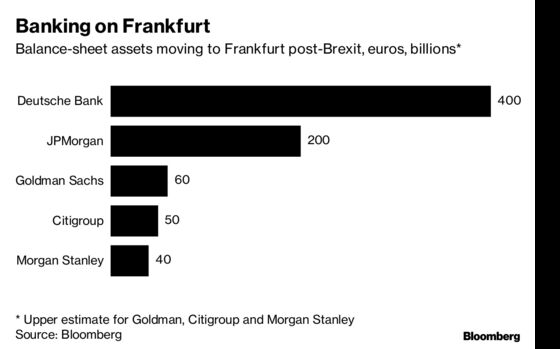 The change, which is likely to win upper-house approval in March, is part of wider legislation to shield the financial industry from the repercussions of the U.K.'s leaving the European Union.
Labor organizations and the anti-capitalist Left Party oppose the looser job protections. The DGB union federation called them "constitutionally dubious, superfluous in terms of finance policy and socially damaging."
"The current situation means that the actual number of affected people will only be in the low thousands," said Hubertus Vaeth, managing partner at the lobby group Frankfurt Main Finance. "If the number reached 5,000, then that would be clear evidence for the measure's success."
The wider Brexit law is designed to prevent market chaos, particularly if Britain leaves the EU without a deal. It includes protections for existing derivatives contracts that companies have concluded with U.K. banks. Germany's main business lobby welcomed the move, saying such transactions are needed to protect against interest-rate or currency swings.