Germany Seeks Deal With Biden on Controversial Pipeline
(Bloomberg) -- Germany wants to make a deal with the U.S. in order to complete the controversial Nord Stream 2 gas project that has caused friction between the two countries.
The 1,230-kilometer (764-mile) gas pipeline that'll bring the fuel from Russia to Germany has been a persistent source of trans-Atlantic friction. Its construction was halted for a year after the U.S. imposed sanctions. Chancellor Angela Merkel's coalition is working on a proposal that'll attempt to soften Russia's influence over the European energy market, addressing some of the U.S.'s concerns on the project, according to people familiar with the matter.
Berlin's strategy to convince the U.S. to scrap sanctions over the project include a regulatory mechanism that would limit Russia's ability to manipulate the energy market. Germany also plans to offer its support to U.S. liquefied natural gas imports with the construction of LNG terminals, according to the people, who asked not to be identified because the matter is private.
"German, EU and U.S. officials are in talks about a package of measures which seeks to enhance Ukrainian stability and European energy sovereignty," CDU energy lawmaker Mark Helfrich, said.
The package could include the possibility to stop Russian gas supply through Nord Stream 2 if Russia breaches its gas obligations under the Ukrainian treaty or if it severely breaches international law or human rights, he said by phone.
Germany's Economy Ministry and Merkel's office declined to comment.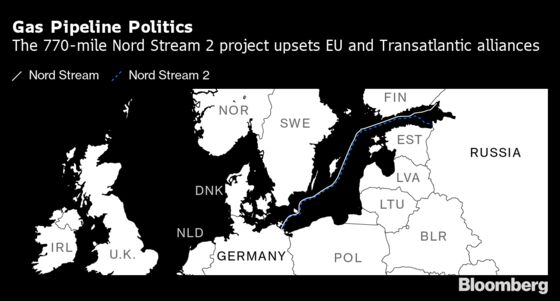 Led by Russia's Gazprom PJSC, the project has caused consecutive U.S. administrations to publicly oppose the pipeline. The U.S. maintains that the gas link gives Moscow too much leverage over Europe's gas supplies and threatens the security of the region. For its part, Germany says that the project is commercial and will give added flexibility the European power mix.
Opponents to the project have called for its halt as a response to the imprisonment by Russia of opposition leader Alexey Navalny.
Read more: Why the World Frets Over Nord Stream Pipeline: QuickTake
"It won't be easy to convince the U.S. to back off of sanctions," said Richard Morningstar, founding chairman of the Atlantic Council's Global Energy Center and Former U.S. Ambassador to the European Union. "It will not be easy to come up with some kind of resolution that takes into account the interests of all stakeholders, as well as recognizes Russia's recent behavior. It is down to Germany to come up with a strong proposal."
On Friday, two key U.S. senators urged the Biden administration to enforce sanctions aimed at blocking the completion of the pipeline, writing in a letter that allowing it would not be "a constructive path forward to a partnership" with Germany.
A report from the U.S. Department of State with names of companies to be sanctioned is expected by members of Congress this month.
Biden's team is sensitive to the outcry over extraterritorial sanctions and are looking at alternatives, according to a person close to the matter. The report required by Congress may be briefly delayed, as the new administration needs time to determine what entities would be involved in proscribed activities and there are also national interest waiver provisions.
Merkel's next contact with President Joe Biden will take place on Friday in the G7 video call, and there are no bilateral talks planned in which Merkel could raise Nord Stream 2.
Construction on the pipeline resumed in Danish waters on Jan 6, with Fortuna, a Russian ship slapped with sanctions during the Trump administration's final days, carrying out pipe-laying. Work is set to be largely completed by the end of April, according to the Danish Maritime Authority.
On Sunday, Russia's deputy premier Alexander Novak said on Russian state television that Nord Stream 2 will be completed "despite of the destructive approaches" from the U.S., according to the Interfax newswire.