Germany's Hymer Draw Bids From Thor, Centerbridge
(Bloomberg) -- German motor-home maker Hymer GmbH has attracted bids from Airstream parent Thor Industries Inc. and private equity firm Centerbridge Partners that could value the company at about 2 billion euros ($2.3 billion), people familiar with the matter said.
Hymer's family owners have received offers from four suitors and could make a decision about a sale in the next couple of weeks, the people said, asking not to be identified because the talks are private. No final decisions have been made, and if negotiations fail, Hymer may float a stake in Frankfurt early next year, they said.
In an initial public offering, the company could be valued at 2.5 billion euros to 3 billion euros, or about 10 times its expected earnings before interest, taxes, amortization and depreciation for 2019, some of the people said. Hymer was previously listed in Frankfurt from 1990 to 2014.
A Hymer spokeswoman said its owners are running a dual-track process and considering all options, without commenting further. Representatives for Thor and Centerbridge declined to comment.
Thor -- which is made up of several brands, including Airstream and Dutchmen, and is one of the world's largest RV firms -- may have an advantage over its private equity rivals since so-called strategic bidders are generally able to run operations more efficiently and can justify higher bids. Thor has a strong U.S. presence and little overlap with Europe-focused Hymer, making a potential acquisition complementary, one of the people said.
Centerbridge is interested in buying a majority stake in Hymer instead of bidding for the entire company and would plan to float the company on the Frankfurt stock exchange later, another person said. The private equity firm owns a stake in German wind turbine maker Senvion SA and in 2016 agreed to sell auto repair chain ATU Auto Teile Unger Gmbh to France's Mobivia Groupe.
Hymer traces its roots back to 1923 when Alfons Hymer, a coachbuilder, founded a business producing agricultural vehicles. In 1957, his son Erwin Hymer helped develop their first caravan, called the Ur-Troll.
U.S. and European RV companies have benefited latterly from surging demand from younger clients interested in outdoor activities. Still, there are doubts about the sustainability of the boom as shipments have faltered in recent months. Northcoast Research analyst Seth Woolf said this month that he was concerned about underlying retail demand following channel checks, helping to send shares of Thor and its competitors lower.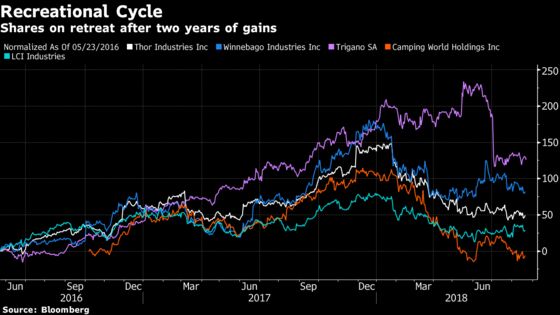 Shares in European RV maker Trigano SA plunged the most in 10 years after third-quarter earnings in July when it reported sales that were markedly below expectations, according to Portzamparc analyst Arnaud Despre. The company said leisure vehicle sales were hit by a decline in the U.K. and component supply difficulties.