Germany's Debate Over When to Quit Coal Is Just Getting Started
(Bloomberg) -- The task of winding down Germany's coal industry is only just beginning, with Chancellor Angela Merkel and the utilities with the most at stake starting to work out details of the shift that will cost at least 40 billion euros ($46 billion).
Merkel on Thursday will meet governors of states with the biggest coal mines to discuss compensation for shutting down the mines and about 120 power generation plants that use the most polluting fossil fuel.
Economy minister Peter Altmaier says the government has already begun working on a series of laws to phase out coal. A panel including lawmakers from the main parties, industry executives, environmentalists and unions on Jan. 26 called for the last coal plants to be shut by 2038 with compensation for the regions most affected.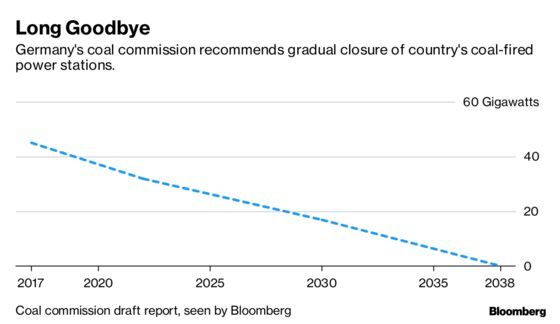 Altmaier said the government would work quickly to prepare laws, but also warned a "whole series" of them would be required, implying it will take time before the legislation is presented to parliament.
Government and industry have diverging interests. RWE and Uniper are vying to keep their most profitable plants operating the longest, which may leave them favoring the most efficient and newest plants. Ministers want to protect jobs, especially in the most deprived regions, which may tilt them toward keeping open facilities that run on lignite, a highly-polluting soft form of coal that comes from open pit mines.
RWE AG and Uniper SE have the most coal plants and the most at stake in the talks. Other operators include Vattenfall AB, which already is closing its plants, EnBW Energie Baden-Wuerttemberg AG, STEAG GmbH, Mainova AG and Lausitz Energie Bergbau AG, better known as LEAG.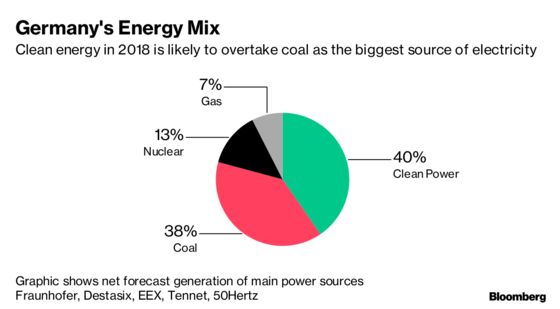 Questions Facing Companies
Companies are gearing up for negotiations over compensation and plant closures and are working to steer the public debate. RWE Chief Executive Officer Rolf-Martin Schmitz in an interview with the Rheinische Post newspaper on Monday warned about job cuts by 2023, a cry he hopes will ring in the ears of politicians.
The immediate questions for RWE is whether the government will back a commission recommendation to preserve what's left of the ancient Hambach Forest. RWE wants to raze the forest to extend a lignite mine, saying any delay will cost hundreds of millions of euros and thousands of jobs.
Uniper is focused on the fate of its new Datteln-4 coal plant, whose scheduled opening last year was delayed by faults in its boiler. Uniper may be compensated for keeping the plant closed or allowed to open the unit as other older and more polluting facilities are taken offline. Uniper has said that not commissioning Dattelin-4 would cost about 100 million euros a year in lost earnings. Analysts at Bernstein think it's unlikely Uniper will get a payment that offsets all of the costs.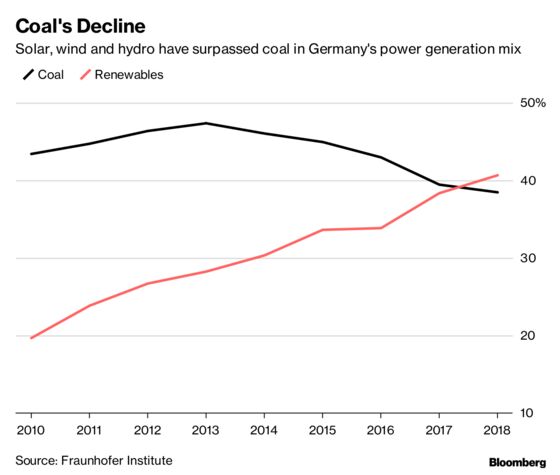 Finance minister Olaf Scholz is considering how to use the 40 billion euros of taxpayer's money that the coal commission suggested go to states impacted by the closures -- and probably more for companies affected. He may argue for stretching out the exit from coal to lessen the burden on the budget. Where the payments go and when will have a big impact on the regions and on jobs -- especially in more deprived places where Merkel's party has lost support.
While Merkel seems determined to settle the coal question before leaving office, it's not clear she will have enough time to do so. She named her trusted former chief-of-staff Ronald Pofalla to lead the commission and intervening herself to break a deadlock earlier this month. Laws to enact the coal commission recommendations could come quickly if Merkel demands they do.
Germany is falling short on its ambition to cut carbon emissions in step with the Paris Agreement on climate change. Merkel wants to make good on those promises as part of her legacy as chancellor but also wants workers in coal plants and mines to have time to adapt. She's also worried about an upward drift in electricity prices as some nuclear and coal plants have shut, prompting complaints from industry and consumers.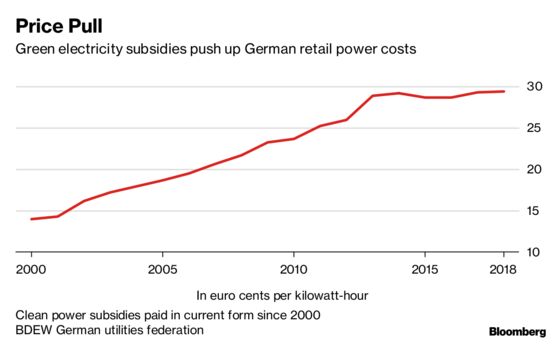 Shares of RWE and Uniper gained on Tuesday when the broader German market slid, implying that the commission's findings might have a small benefit to the utilities over a more rapid coal phase-out suggested by environmental groups.
Power prices are headed higher. Germany's contract for electricity delivery in 2022 spiked as much as 4.7 percent on Monday to more than 51 euros a megawatt-hour.
Carbon declined for two days in London on the ICE Futures Europe exchange, the biggest drop in three weeks, on expectations utilities led by RWE will buy fewer permits to pollute the atmosphere. They may even sell off allowances they have purchased.