BMW Rejects Government Pressure to Fund Diesel Hardware Upgrades
(Bloomberg) -- BMW AG resisted government pressure to fund upgrades to emissions hardware for some older diesel cars but said it will offer customers hit by driving bans after 2020 as much as 3,000 euros ($3,432) in compensation.
After meeting with Transport Minister Andreas Scheuer in Berlin on Thursday, BMW reiterated its opposition to retrofitting emissions systems and listed measures including software updates and trade-in incentives that it said are already contributing to cleaner air.
Volkswagen AG, which sparked the diesel crisis three years ago when it admitted to rigging cars to cheat on emissions tests, and Daimler AG, whose executives also attended the five-hour meeting, committed to pay up to 3,000 euros toward installing cleaner emissions equipment, Scheuer said.
"Hardware upgrades makes the car heavier and leads to more consumption," BMW Chief Executive Officer Harald Krueger said in a statement. Retrofitting hardware that is ready to go into mass production won't be available until the end of 2021 at the earliest, even with an accelerated authorization procedure, BMW said.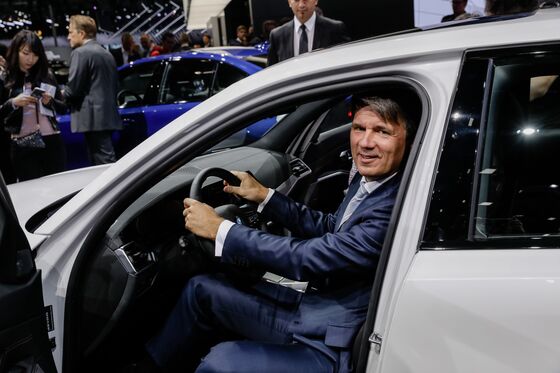 None of Germany's carmakers plan to develop the retrofit systems themselves, but instead are relying on component makers to manufacture and certify them.
Chancellor Angela Merkel's administration has been trying to defuse the diesel crisis and rescue the country's reputation as an automotive leader, but is wary of placing too heavy a burden on carmakers and endangering jobs. Merkel has said the government could contribute to funding hardware fixes, but only as a last resort.
Scheuer called Thursday's agreement "a constructive result," while emphasizing that all three carmakers are skeptical about the viability of hardware fixes. They expect only very few drivers to opt for them -- partly because the car's warranty would be affected -- and are focusing on trade-ins.
"The manufacturers involved are convinced that, if measures already agreed are implemented effectively, the air quality in the most affected cities will quickly improve," Scheuer said at a news conference. The government will also talk to non-German carmakers to try to convince them to join efforts to reduce emissions, he added.
Merkel's administration wants to avoid driving bans in city centers, the latest of which was handed down by a court in Cologne on Thursday following similar decisions in cities including Berlin, Frankfurt and Munich. The court ordered the city governments in Cologne and Bonn to introduce partial bans for some older diesel cars from April 2019.
The upgrades are one element of a package of measures Merkel's government agreed last month. The main focus is on trade-in offers in the most polluted cities, which will allow owners of models with Euro-4 and -5 emissions standards to purchase modern used vehicles as well as new cars.
In Germany's 14 most polluted cities, Volkswagen has said it plans rebates of about 5,000 euros on average for Euro-5 diesel models and roughly 4,000 euros for older cars. BMW is offering incentives of 6,000 euros, and Daimler's Mercedes-Benz 5,000 euros.