Germany Considers Deutsche Bank Fix on Highway Covered With Roadkill
(Bloomberg) -- Germany is examining whether it can fix its two largest lenders -- Deutsche Bank AG and Commerzbank AG -- by combining them into a national champion that's once again able to challenge foreign rivals. History suggests it's a recipe for more trouble.
Spain encouraged the merger of seven failed savings banks into Bankia SA in 2010, only to bail out the combined entity two years later when it collapsed. The U.K. pressed Lloyds Banking Group Plc to swallow failing HBOS Plc in 2008 and a month later had to rescue Lloyds. The U.S. government's enthusiasm for Bank of America Corp.'s takeover of Merrill Lynch around the same time ended with two bailouts in four months. Greek officials pushed for tie-ups of troubled banks during the sovereign-debt crisis, only to be blocked by wary international administrators of the nation's rescue program.
To be sure, Deutsche Bank and Commerzbank aren't on the verge of collapse. But Germany would still have to navigate a road that's proven treacherous time and again: Merging weak banks hardly ever works.
"Putting two bad banks together doesn't make a good bank," said Robert Jenkins, a former Bank of England official who now teaches finance at the London Business School. "It doesn't typically solve the problems of the two banks, and potentially makes it bigger. But politicians do it anyway because they look like they're taking action."
Representatives of Deutsche Bank including Chief Executive Officer Christian Sewing and supervisory board Chairman Paul Achleitner have held about two dozen discussions with German officials since the new government was formed in March. The frequency of talks, which haven't reached a conclusion, underscore a growing sense of urgency as Deutsche Bank struggles to reverse years of losses. Spokesmen at both banks declined to comment.
Read more: Deutsche Bank is said to intensify discussions over strategy
Revenue at the Frankfurt-based firm probably tumbled last year to the lowest level since 2008 financial crisis, according to analysts' estimates. The bank has been trying to restructure its businesses while facing government probes and in recent months particularly tough markets.
Its smaller rival Commerzbank already is part-owned by the government because of the bailout it received during the crisis. The company has been focusing on lending to German corporations and has wrested away some domestic market share from smaller lenders in recent years. But its full recovery is being held back by negative interest rates and the nation's unusual financial landscape.
Both banks' shares were down alongside European stock markets on Thursday, following big gains the day before. Deutsche Bank declined 2.1 percent at 12:09 p.m. in Frankfurt while Commerzbank was down 2.9 percent.
Germany's banking system is dominated by small lenders under little pressure to generate profits. Other European universal banks focused on their home markets after the global crisis to rebuild balance sheets with low-cost deposits, but Deutsche Bank and Commerzbank couldn't. Their backyard was crammed with savings banks and credit unions, owned by local governments and cooperatives, typically offering products and services with little markup.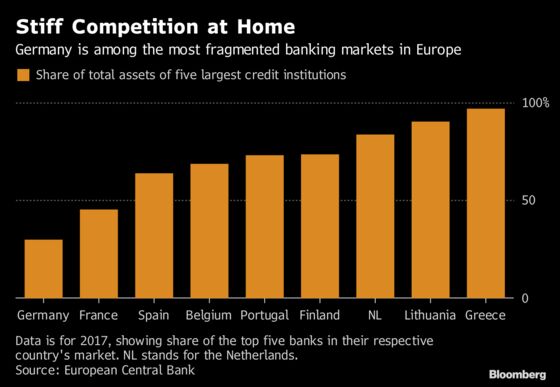 Both banks need to cut costs and have been trying to restructure their operations to make them more profitable. Ideally, a merger would further that -- creating units with larger pools of valuable clients and lower relative expenses. Yet, the pair would be an odd fit, because their businesses and customer mixes are so different, according to KBW analysts.
Internationally, Deutsche Bank offers investment banking and securities-trading services while Commerzbank focuses on trade finance. They compete most directly in domestic lending to small- and mid-size companies and in wealth management.
"The lack of strategic overlap and business complexity may lead to limited synergies and integration challenges," said Thomas Hallett, a KBW analyst based in London.
Getting synergies equal to 10 percent of Commerzbank's cost base, for example, wouldn't be enough to help Deutsche Bank's future earnings, Hallett found. One of the biggest cost-cutting opportunities in a merger is staff reduction, he noted, but that's politically and legally tough in Germany.
Former Deutsche Bank CEO John Cryan announced 10,000 job cuts in 2015. Since then, the firm has managed to shed 6,000. Sewing promised more cuts last May as it further pares international operations. While his firm and Commerzbank operate about 1,000 branches in each other's proximity, their divergent clients would limit the number that could close, according to KBW.
Some analysts are more optimistic about a potential merger. The German government would become a shareholder in the combined entity through its existing stake in Commerzbank, shoring up confidence in the lender and lowering its cost of funding, Goldman Sachs Group Inc. analysts wrote in an October report. It may also draw more low-cost deposits while still closing enough branches to significantly reduce costs, the analysts said.
It probably would make more sense for Deutsche Bank to hook up with another universal bank with similar businesses. Yet that's unlikely to happen due to political opposition, said Irene Finel-Honigman, a professor of international banking at Columbia University.
Germany's government objected to Citigroup Inc.'s potential interest in buying Deutsche Bank in 2004, she said, citing conversations with high-level government officials at the time. Nor would it allow Allianz SE to sell its banking unit, Dresdner Bank, to foreign bidders. Dresdner ended up combining with Commerzbank, and the losses from its investments in complicated U.S. mortgage products contributed to the latter's near-collapse during the crisis. Deutsche Bank's Achleitner was Allianz's chief financial officer at the time.
"No government in Europe allows major foreign ownership of their big banks," which ultimately hampers their ability to become globally competitive, said Finel-Honigman. "Other European banks would make more sense for Deutsche Bank to tie up with, but the German government won't allow it. U.S. banks -- no way."
In a similar politically motivated marriage of national champions, France forced failed Credit Lyonnais to be usurped by Credit Agricole in 2003, thwarting overtures by Deutsche Bank and HSBC Holdings Plc, Finel-Honigman said. The combination of an investment bank with a provider of credit to farmers didn't make sense and the institutions' cultures didn't fit, she said.
Many executives at Deutsche Bank would prefer a merger with a lender outside Germany, people with knowledge of their thinking have said. So would the European Central Bank, people familiar with its position said this week. At this point, selling Deutsche Bank to a foreign rival would be particularly painful for shareholders who've watched the stock price sink 76 percent over five years.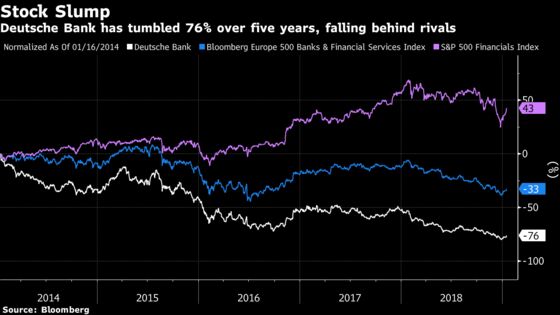 Some of the media reports on the potential merger discussions have said the German government is planning to inject capital into the new entity to financially support their tie-up. Others have cast doubt on that because bailouts are so politically unpopular after the country pumped more than $90 billion into failing banks during the 2008 crisis. Even if the government doesn't contribute fresh capital, it could provide support by ring-fencing some legacy assets on Deutsche Bank's balance sheet and insuring them against future losses.
That's what the U.S. government was trying to do with Citigroup at the height of the financial crisis. For a proposed takeover of smaller rival Wachovia Corp., Citigroup sought government backing on some of the most toxic securities it was holding to prevent writedowns from wiping out its equity. That model was backed by Citigroup's main regulator and would have amounted to a covert bailout. But other regulators opposed the deal, and Wells Fargo & Co.'s offer to buy Wachovia without assistance ended up winning instead. Citigroup was soon bailed out, ultimately receiving more support than any other U.S. bank.
It's not clear how much a similar backdoor bailout through asset guarantees would help Deutsche Bank. Among its peers, it has the largest concentration of Level 3 assets -- hard-to-value securities that are marked based on internal models. Still, Deutsche Bank's stockpile is much smaller than what Citigroup and some other big U.S. banks held heading into the depths of the crisis.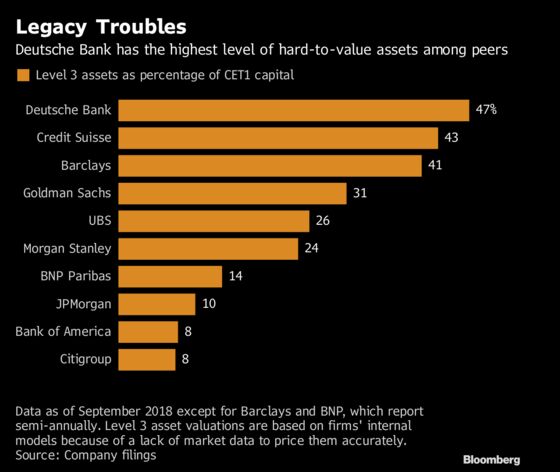 Deutsche Bank and Commerzbank's combination might work if there were cost savings and a robust recapitalization, possibly drawing on public and private funds, said David Hendler, founder of Viola Risk Advisors and an analyst who's followed the industry for more than three decades.
Some of that money could help resolve legal liabilities and probes. The companies would need yet more funds to invest in technology where they've fallen behind and to expand in new regions and diversify, Hendler said.
"What's the business model?" Hendler said. "That they have to figure out real fast."
Goldman's analysts have suggested Deutsche Bank could create new capital by underpaying for Commerzbank. Deutsche Bank's current market value is about 70 percent below its book value, or what the bank says it's worth. If the transaction took place at current share prices, Deutsche could add the difference between what it pays and the book value into its equity as allowed under accounting rules, the analysts said.
Ironically, Germany has been the leading voice against other European Union governments bailing out their failed banks. The banking union structure that the euro-zone countries have been rolling out in recent years opposes such bailouts, too. Yet Italy has used exceptions in the new regulations to prop up banks as recently as 2017, and its current populist government is mulling yet another bank bailout.
But in the case of Germany's largest lenders, a combination would be "very bad" from the public's perspective, according to Willem Pieter de Groen at the Centre for European Policy Studies in Brussels. The combined assets of the two banks would exceed $2 trillion, at least initially, catapulting Deutsche Bank to the third spot in Europe from its current No. 5.
"Too big to fail was the problem we wanted to solve after the crisis," said de Groen, who heads financial markets analysis at the research organization. "This merger would create a bigger entity that would be even harder to resolve if the merger didn't work out."