Germany Inflation Unchanged in July, Holding Just Above 2% Level
(Bloomberg) -- German inflation remained just above 2 percent in July as summer sales offset higher vacation costs.
Consumer prices rose 2.1 percent from a year earlier, the same rate recorded in June and in line with the median forecast of economists in a Bloomberg survey. Clothing and shoes were cheaper across all states that have reported data so far, while package vacations were 19.3 percent more expensive than in June.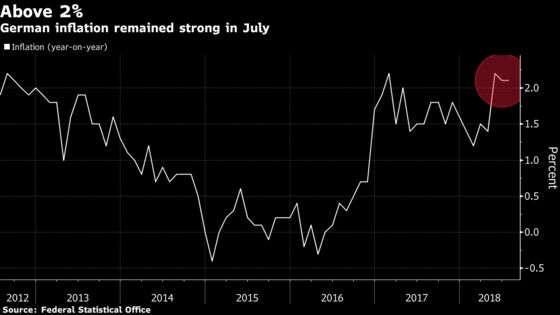 The European Central Bank is closely monitoring inflation developments across the 19-nation region to see if it can withstand a gradual withdrawal of monetary stimulus. While the headline rate has jumped in recent months amid a surge in oil prices, and companies have started to pass on higher costs, core inflation is only slowly picking up.
In Spain, figures earlier showed inflation came in weaker than expected, holding at 2.3 percent. The rate for the euro area will be released on Tuesday and is forecast to remain at 2 percent. Those data will be released alongside a first estimate for second-quarter growth and June unemployment.
The reports will offer a glimpse at the strength of the economy, after the threat of a trade war shook confidence. Sentiment dropped to its lowest level in almost a year in July, led by manufacturing. Gauges of export orders and production expectations slipped.
In Germany, optimism jumped to the highest level in five months. The Bundesbank said it expects private consumption to remain a key pillar of the expansion, with manufacturing likely to regain importance.