Germany Barely Skirts Recession in Muted Quarter for Euro Area
(Bloomberg) -- Germany's economy stagnated at the end of 2018, trailing most of its peers in the euro area, and continued trade tensions mean any pickup in Europe's powerhouse economy could be muted.
While the country narrowly avoided a recession, it fell to others to drive euro-area growth -- which came in at 0.2 percent in the fourth quarter. The Netherlands reported an expansion of 0.5 percent earlier on Thursday, and Portugal saw output rise 0.4 percent.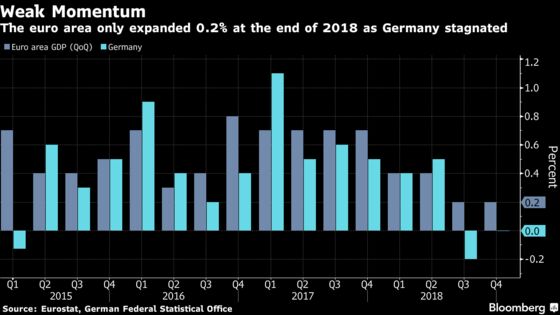 European equity investors looked past the weaker-than-expected German growth data, as did euro traders. The common currency was up 0.1 percent to $1.1274 at 12:29 Frankfurt time.
Economic signals at the start of 2019 haven't been encouraging: disappointing numbers keep rolling in and a slew of institutions have downgraded their outlooks.
Yet a better first quarter might still be in the cards. Economists forecast growth of 0.4 percent for Germany and the euro area as one-off inhibitors dissipate. Still, the full-year outlook depends on whether stabilizing trade and Chinese growth can revive industrial momentum.
Just last week the European Commission issued sweeping downward revisions for Germany and many of the euro area's major economies. The region faces a daunting combination of weaker demand for its exports, the prospect of a messy divorce with the U.K., and protracted impact from political tensions in Italy and France.
| Country | Q4 GDP (% change) | Q3 |
| --- | --- | --- |
| Euro area | 0.2 | 0.2 |
| Germany | 0.0 | -0.2 |
| France | 0.3 | 0.3 |
| Italy | -0.2 | -0.1 |
| Spain | 0.7 | 0.6 |
| Netherlands | 0.5 | 0.1 |
| Portugal | 0.4 | 0.3 |
Germany's economy was bolstered by domestic demand in the fourth quarter. Investment, particularly into buildings but also equipment, rose markedly. Government spending and private consumption rose, but there was no contribution from net trade.
According to economists at Bank of America Merrill Lynch, the current slowdown may prove temporary but relies on "accidents not happening." That means a removal of U.S. threats to hike car import tariffs, a Brexit deal and stabilization of the Chinese economy.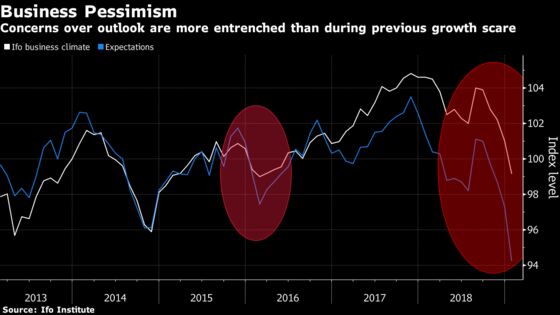 Yet business concerns this time are more entrenched than they were during the last growth scare, and that alone could weigh on investment. A gauge for German manufacturing is signaling contraction, the Economy Ministry predicts the weak phase in industry will continue and Daimler AG is preparing a "comprehensive" cost-cutting program.
At the European Central Bank, policy makers have signaled they won't rush in with additional stimulus. Officials decided to halt bond buying in December and are waiting to see how to economy evolves before deciding to raise interest rates.
The domestic euro-area economy remains "pretty strong," according to Irish central-bank governor Philip Lane, who is set to replace Peter Praet as ECB chief economist in June.