German Utilities Dodge Worst Case From Merkel's Coal Exit
(Bloomberg) -- German utilities looked to have avoided a worst-case scenario after a government commission made preliminary recommendations that Germany should take two decades to phase out power plants that use coal.
The panel appointed by Chancellor Angela Merkel proposed setting 2038 as the date to shut the last facility using the dirtiest fossil fuel, with companies affected receiving compensation. The exit is much more gradual than the 11-year phaseout of nuclear reactors, which only won compensation after lawsuits.
If approved by government, the measures would allow half of Germany's 120 or so existing coal plants to keep working through 2030. The moves would bring nothing "too draconian" to an industry working steadily to meet Merkel's effort to meet climate promises requiring lower greenhouse gas emissions, said John Musk, an analyst at RBC Capital Markets LLC.
It's positive that the commission reached an "almost unanimous" agreement as that allows the company to plan ahead with certainty, RWE AG Chief Executive Officer Martin Schmitz said in a newspaper interview published Monday. He also said he expects a "significant reduction" in jobs by 2023.
"It's generally positive for RWE, which is still unhappy with it," said Elchin Mammadov, analyst at Bloomberg Intelligence.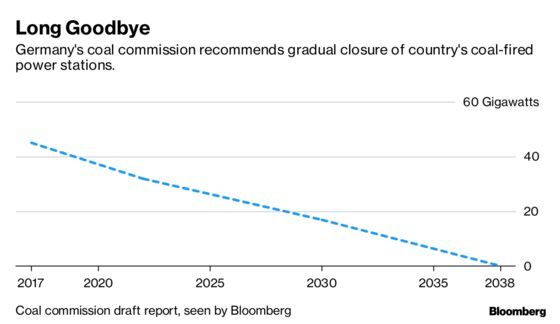 RWE and Uniper each fell about 0.5 percent in Frankfurt trading, maintaining much of the gains they enjoyed in the past two weeks. The benchmark Dax index was little changed, down 0.09 of a percent.
The commission's proposals rippled through European power markets Monday. The 2022 power contract spiked as much as 4.7 percent to more than 51 euros a megawatt-hour. Traders and utilities like RWE see a power supply crunch in 2022 as nuclear and coal plants come offline.
The cost of pollution allowances declined. That indicated an expectation that RWE and other utilities required to buy the certificates to cover their carbon dioxide will need to make fewer purchases as their dirtiest plants close. Carbon fell 4.3 percent in London on the ICE Futures Europe exchange, the most in three weeks.
The commission's recommendations require approval from lawmakers and the government. Utilities could gain further if the government opts for an even slower exit. They also may benefit from rising power prices as supply is squeezed by the simultaneous shutdown of coal and nuclear plants.
"It is hard to quantify the impact on the German generation companies, given there is no detail on precise plants to be closed or the scale of the compensation," RBC's Musk wrote in a research note Monday. "Much will now depend on how the government chooses to implement the proposals and how compensation payments can be structured to avoid state aid regulations at the EU level."