Glaxo to Pay Merck Up to $4.2 Billion in Cancer Deal
(Bloomberg) -- GlaxoSmithKline Plc will pay Germany's Merck KGaA as much as 3.7 billion euros ($4.2 billion) to get access to a promising immune-oncology treatment that the drugmakers see as a key to bringing the next wave of cancer therapies to patients.
The collaboration, which includes an upfront payment of 300 million euros, is the latest step in Glaxo Chief Executive Officer Emma Walmsley's effort to rebuild the U.K. company's position in oncology. For Merck, it helps fulfill CEO Stefan Oschmann's goal to bring in expertise and funds needed to develop and market innovative treatments.
Companies including Roche Holding AG, Bristol-Myers Squibb Co. and U.S.-based Merck & Co. are powering an oncology revolution that will see overall annual sales grow to an estimated $160 billion by 2022, up 60 percent from 2017, according to Bloomberg Intelligence. Drugmakers are looking for any possible entry to the area, especially immune-oncology therapies that unleash the body's protective cells against tumors.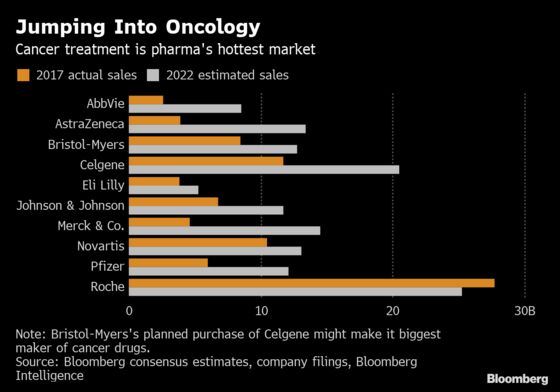 Glaxo is betting the partnership will help make the company a leader in the next generation of cancer treatments, following so-called PD-1 inhibitors like U.S.-based Merck's Keytruda. The experimental drug at the center of the German company's agreement with Glaxo, M7824, is in a pivotal trial against Keytruda for lung cancer, according to Bloomberg Intelligence.
"We need to take risks to go beyond PD-1, and we think we're taking a pretty smart risk with this mechanism," Axel Hoos, the head of Glaxo's oncology research and development, said in an interview. "This gives us access to a cutting-edge drug that could potentially improve on what that class is already delivering."
The German company's drug is aimed at blocking two molecules that cancer cells use to evade the immune system, including one called TGF-beta. Oschmann had said Friday in an interview that the company was seeking a partner on it.
The deal is an "important event which helps crystallize the value of an under-appreciated asset by bringing on board a credible partner," Wimal Kapadia, a Bernstein analyst, wrote in a note to clients after last year describing the drug as German Merck's "game changer."
Merck is eligible for potential development milestone payments of as much as 500 million euros, the companies said on Tuesday. The drugmaker will also be eligible for further payments of as much as 2.9 billion euros for reaching regulatory and commercial goals.
Oschmann said he wouldn't rule out other partnerships for any late-stage molecule. The company, which is not linked with U.S.-based Merck, is already working with Pfizer Inc. to develop Bavencio, another immune oncology drug. When it comes to the hot, complex and expensive world of cancer drug development, Oschmann acknowledged that Merck is simply too small to go it alone.
"We need financial support for that, and we need a strong partner," he said. "We need people who have a lot of scientific knowledge in disease biology, who are good at drug development, who are good at regulatory and good at market access."
Merck is also looking into partnering for its experimental drug Evobrutinib, Oschmann said. And it's working with purely financial investors on helping finance development programs in return for royalties later on, which the CEO refers to as a "risk-sharing approach."
Glaxo will "follow the science" and remains open to further deals that could bolster its oncology business, said Hoos, who oversaw the development of Bristol-Myers Squibb's Yervoy, the immunotherapy approved in 2011. The partnership follows Glaxo's agreement in December to buy drugmaker Tesaro Inc. for $5.1 billion.
Glaxo last month highlighted the potential for three key oncology treatments to hit the market within the next two years, including two from Tesaro. Under Walmsley's predecessor, Glaxo sold its cancer-drugs business to Novartis AG in 2015 as part of a broader asset swap, yet held on to its pipeline of early-stage therapies.