German Manufacturing Job Losses Top 100,000 With Daimler Cuts
Germany may have narrowly avoided a recession in the third quarter but pressure on the country's industrial champions shows no sign of abating.
Daimler AG said Friday it will shed more than 10,000 positions, lifting the tally of job cuts announced this year across Germany's manufacturing sector to more than 100,000, according to Bloomberg calculations.
Companies from Volkswagen AG to Siemens AG are letting workers go as Germany's powerful automotive industry struggles with a shift toward electrification and self-driving cars and makers of machinery and robots are hit by slower exports and trade disputes. Producers of renowned German products such as Meissen porcelain and WMF kitchenware are also trimming their workforces.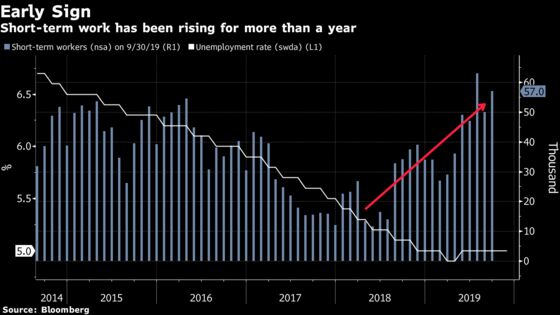 While the country's unemployment rate, at 5%, remains close to its historic low, the number of freelancers is rising and short-term work has been creeping up since last year.
Automotive companies in particular are tightening their belts. Daimler alone pledged to save a total of at least 1.4 billion euros ($1.5 billion) in personnel expenses.
The full effect of the cuts -- which also affect units of German companies abroad --- may not be felt immediately. Labor laws and powerful unions make it difficult to fire workers, and many large companies have agreements banning forced dismissals, meaning job-cut programs have voluntary elements and sometimes run for years.
Still, the deteriorating prospects for employment could turn into a headache for the German government, which has been considering following countries from China to the U.K. in beefing up investments to stimulate its economy.
Here is a rundown of the main job cuts announced since the beginning of the year by German industrial companies. The tally includes foreign corporations that have announced cuts affecting staff in Europe's biggest economy. It excludes the financial industry, cuts that remain unconfirmed, and programs where companies have not yet specified how many jobs will go.
| Company | Total | Where | Date announced | Comment |
| --- | --- | --- | --- | --- |
| Airbus | 1,100 | Germany | April 11 | At Premium Aerotec in Augsburg |
| Audi | 9,500 | Germany | Nov 26 | |
| BASF | 6,000 | Global | June 27 | Half of those in Germany |
| Benteler | 600 | Germany | Nov 21 | |
| Bilfinger | 200 | Germany | Nov 13 | Admin and IT jobs |
| Bosch | 2,840 | Germany | Oct 22 | At three sites |
| Brose | 2,000 | Germany | Oct 17 | Bamberg, Hallstadt, Coburg, Wurzburg |
| Continental | 20,000 | Global | Sept 25 | 7,000 in Germany |
| Daimler | 10,000 | Global | Nov 29 | |
| Enercon | 3,000 | Germany | Nov 8 | Jobs to go at Enercon and its suppliers |
| Diehl Aviation | 240 | Germany | Oct 7 | |
| Duerr | 350 | Germany | Nov 6 | Closing of production in Hemmoor at Homag |
| Ford | 5,000 | Germany | June 27 | Part of 12,000 cuts across Europe |
| GEA Group | 800 | Global | Sept 26 | By the end of 2020 |
| Goodyear | 1,050 | Germany | Mar 19 | Fulda, Hanau factories |
| Krones | 400 | Mostly Germany | Oct 30 | Between 300 and 500 |
| Kuka | 350 | Germany | March 28 | Augsburg headquarters |
| Leoni | 2,000 | Global | March 18 | 500 in high-wage countries |
| Maersk | 100 | Germany | Nov. 29 | Danish container liner shrinks German arm Hamburg Süd |
| Mann+Hummel | 1,200 | Global | April 11 | 300 in Germany |
| Meissen | 201 | | Nov 14 | |
| Michelin | 858 | Germany | Sept 25 | French tire maker closes German site |
| Miele | 1,720 | Globally | Oct 30 | 890 in Germany |
| Philip Morris | 950 | Germany | May 28 | Ends cigarettes production in Berlin |
| Sanofi | 466 | France, Germany | June 19 | French drugmaker cuts R&D jobs |
| Schaeffler | 2,200 | Mostly Germany | Oct 10 | |
| Schuler | 500 | Germany | July 29 | Production jobs |
| Siemens | 13,100 | Global | June 18 | 2,700 at its power and gas unit, 4,900 in digital industries, 3,000 at smart infrastructure, 2,500 corporate |
| Stabilo-Schwan | 200 | Germany | July 17 | Jobs moved to Czech Republic, U.S. |
| Stahl Holding Saar | 1,500 | Germany | Sept 27 | Jobs in Saar region |
| Südzucker | 150 | Germany | Jan 29 | Closing of two factories |
| Thyssenkrupp | 6,000 | Germany, elsewhere | May 10 | 4,000 in Germany |
| Vestas | 500 | Germany | Sept 27 | Danish wind turbine maker shrinks German plant |
| Voith Turbo | 230 | Germany | Oct 14 | Closing two plants |
| Vossloh | 200 | | April 23 | Cuts 5% of staff |
| Volkswagen | 4,000 | Germany | June 5 | VW brand will cut as many as 4,000 general and administrative jobs through 2023 |
| WMF | 400 | | July 10 | |