German Green Sides With Trump in Bashing Merkel's Austerity
(Bloomberg) -- Sign up here to receive the Davos Diary, a special daily newsletter that will run from Jan. 20-24.
The co-leader of Germany's Greens sided with the U.S. in demanding more spending from Berlin, saying that Chancellor Angela Merkel should drop her balanced-budget "fetishism."
Robert Habeck, the co-chairman of the party that's become Germany's No. 2 political force behind Merkel's Christian Democratic Union, laid into the German leader's spending priorities -- and said that, at least when it comes to fiscal policy, he's not far from U.S. President Donald Trump.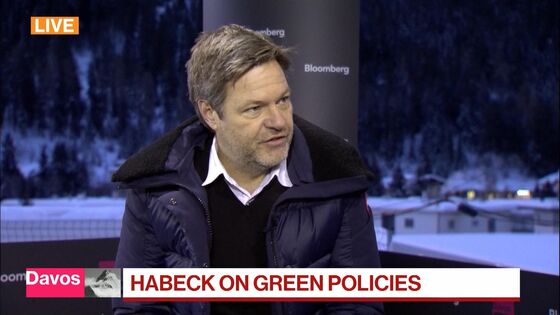 "I'm not a big fan of Donald Trump, but the U.S. discussion is right -- Germany is not doing enough and not spending enough," Habeck said in an interview with Bloomberg Television from the World Economic Forum in Davos, Switzerland.
Trump, the European Commission, and the International Monetary Fund have all targeted Germany's ballooning trade surplus and fiscal restraint as a drag on European and global growth. Habeck, citing the U.S. debate on a Green New Deal, said a German government with his party would spend more on green infrastructure, education and innovation.
Later on Tuesday the writer-turned-politician blasted Trump's address in Davos, telling a ZDF television reporter that it was "the worst speech I have ever heard" and that Trump only touted his own achievements instead of addressing climate change and other global problems.
The Greens have surged in the polls, propelled in part by continent-wide climate protests over the past year. In most quarters they are seen as a sure bet to form part of the country's next administration. After Merkel, the charismatic Habeck is Germany's most popular politician, according to a Bild newspaper opinion poll that included other potential candidates to replace her.
The party was part of a Social Democratic-led government under then-Chancellor Gerhard Schroeder until 2005. Now, it wants to come back.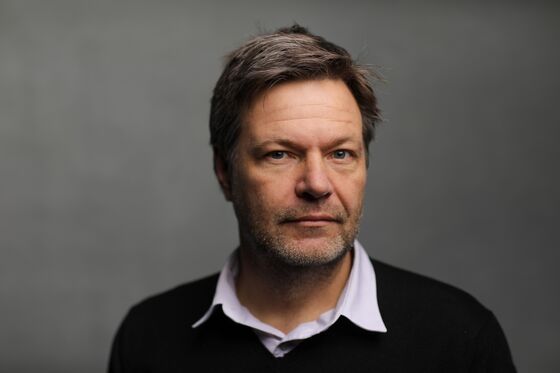 "We haven't been part of the German government for 15 years now, far too long if you ask me," Habeck said. "We are prepared to take responsibility -- and then, of course, not for the sake of it, but for the sake of changing politics."
In neighboring Austria, the Greens earlier this month entered into a coalition with the center-right People's Party, reviving a debate on both sides of the political spectrum over the possibility of a similar coalition in Germany as well. Forty years after their foundation, the Greens have transformed from a party primarily focused on the environment into one with a broader base.
Describing how the Greens have gone mainstream over the years, Former Finance Minister Wolfgang Schaeuble recently told Bild am Sonntag newspaper that they had become "a bog-standard party." Still, some proposals, such as a tax on meat or a car-free city center, remain controversial and make some consumers and producers uneasy.
Habeck, who has a background as a writer, has been instrumental in pushing the party to prepare itself for government. But whether he or co-leader Annalena Baerbock would be its first-ever chancellor candidate in the next election is still unclear. With an engaging television presence, the 50-year-old entered state politics only in 2009 but quickly rose up the ranks to become deputy premier in Schleswig-Holstein, his home state, wedged between the North Sea and the Baltic Sea.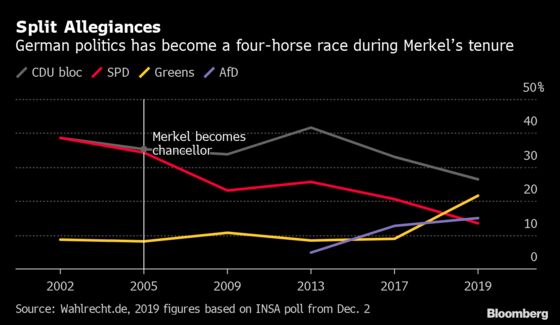 Merkel has said she won't run for office again when her fourth term ends, at the latest in 2021. Her junior coalition partner, the Social Democrats, say they wouldn't want to renew the coalition with her CDU.
Indicative of the party's strength, the Greens in February stand a chance of winning the mayoral race in Hamburg, where the SPD has governed for most of the period since 1945.
"We have this cliche, that the Greens, because they are the Greens, they are for the trees and the weather, but that's not true anymore," Habeck said.