Germany Pushes VW, BMW for Trade-Ins to Defuse Diesel Crisis
(Bloomberg) -- Germany's ruling coalition pushed Volkswagen AG, Daimler AG and BMW AG to offer trade-in rebates for older diesel vehicles to avoid driving bans in urban areas and defuse a crisis that's sullying the country's reputation as an automotive leader.
The plan was agreed by Chancellor Angela Merkel's government after a meeting that ended in the early hours of Tuesday morning. The main focus of the measures is on trade-in offers in the most polluted cities, which will allow owners of models with Euro-4 and -5 emissions standards to purchase modern used models rather than just new cars. The package also includes proposals for controversial upgrades to emissions hardware that the German government wants carmakers to fund.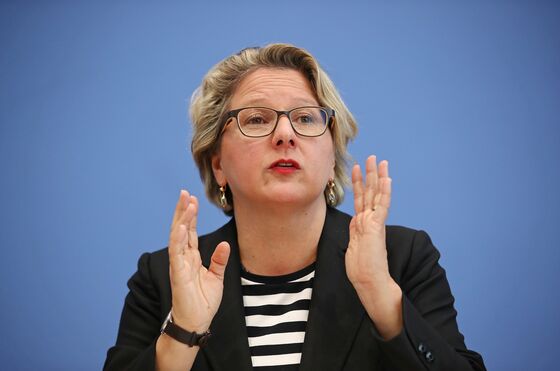 "After a long night, we set a path to make air cleaner in cities, which we will now vigorously pursue," Environment Minister Svenja Schulze said at a press conference in Berlin. "For months, I have appealed for hardware fixes, and I'm happy that the federal government could agree on that."
The German auto industry has long resisted costly hardware fixes, and the step remains controversial with BMW balking at the proposal. Volkswagen, which sparked the diesel crisis three years ago when it admitted to rigging cars to cheat on emissions tests, is willing to undertake hardware fixes if other carmakers do as well. Daimler AG will consider the move but plans to focus on trade-ins.
"Volkswagen is prepared to make a contribution to secure its customers unrestricted individual mobility," Chief Executive Officer Herbert Diess said in a statement, adding that hardware upgrades depend on the solutions developed and tested by suppliers.
'Billion-Euro Contribution'
In the 14 most polluted cities, Volkswagen said it plans rebates of about 5,000 euros on average for Euro-5 diesel models and roughly 4,000 euros for older cars. BMW is considering incentives of 6,000 euros, and Daimler's Mercedes-Benz 5,000 euros, according to the government. Germany is hoping foreign manufacturers join in offering rebates.
"We are talking about an important billion-euro contribution that the German car industry contributes for these models," Transport Minister Andreas Scheuer said. "We want to secure the future of diesel."
The government has been under increasing pressure to find a solution with cities such as Frankfurt and Stuttgart poised to join Hamburg in barring diesel vehicles from certain areas because of excessive levels of smog-causing nitrogen oxides. Dealing with the crisis has been a difficult balancing act for Merkel's government with every fifth job in Germany tied to automaking and little legal leverage since the cars were properly certified, thanks to loose regulations.
Diesel was once the calling card of German engineering prowess, with the industry boasting about the technology offering more power while emitting about 15 percent less carbon dioxide than equivalent gasoline engines. The decline of diesel has prompted German carmakers to accelerate investments in electric vehicles.
The ongoing debate has caused consumers to shy away from diesel technology, which is profitable, secures jobs and helps meet tighter fuel-economy regulations. The deal represents the second attempt at defusing the crisis. Actions undertaken last year, including software upgrades for emissions systems, proved insufficient to improve air quality.
In cities with elevated nitrogen-oxide levels, Germany plans a program to subsidize hardware upgrades for municipal vehicles such as garbage trucks, delivery vans and vehicles for trades people.