German Factories Prop Up Economy With Forecast-Beating Growth
(Bloomberg) -- German manufacturing powered ahead in December, with global demand helping factories post a better-than-forecast performance.
IHS Markit's monthly index unexpectedly jumped to 58.6, the highest level in almost three years, from 57.8. Orders across the goods-producing sector increased sharply, with many firms citing stronger demand from China in particular.
The reading pushed the euro higher. It extended its gain and was up 0.4% to $1.2198 as of 10:47 a.m Frankfurt time. The yield on German 10-year bonds rose.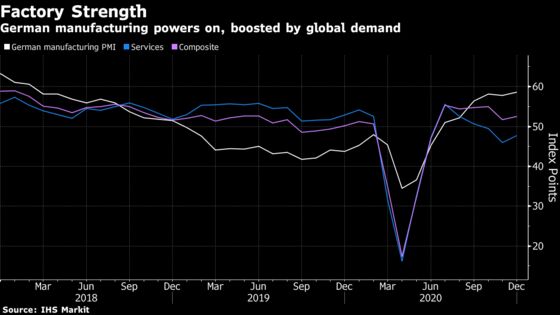 Germany's measure for services activity also rose in December, though remained at a level that signals contraction.
The survey only covers the period Dec. 4-15, and the outlook has been made more uncertain since the country entered a hard lockdown on Wednesday. All non-essential stores are shut until at least Jan. 10 and the government is urging businesses to close early ahead of the upcoming Christmas holidays.
But the ongoing strength of manufacturing gives hope that German industry will help carry the economy through. It's forecast to shrink 5.6% this year, less than the euro-area average of 7.4%.
According to the latest PMI, the surge in demand also saw increasing strains on supply chains. Together with raw-material shortages, they prompted the biggest price increases since March 2019.
"The situation in the manufacturing sector, where rapid growth is resulting in supply bottlenecks and strong inflationary pressures, is reminiscent of that seen during the rebound from the global financial crisis a decade ago," said Phil Smith, an economist at IHS Markit. "Only this time there's the added disruption from a global pandemic."
A composite PMI for manufacturing and services rose to 52.5 this month from 51.7 in November, beating economists' expectations. A gauge for the 19-nation euro area rose to 49.8 from 45.3, also better than expected.