German Economy Faces Coronavirus Hit as Export Orders Sink
Germany's economy is facing renewed pressure from beyond its borders as export orders plunge and manufacturers worry about the impact of the coronavirus outbreak on their supply chains.
While a surprise jump in the factory Purchasing Managers Index sent the euro higher, the report shows that number isn't as positive as it seems. Expectations for output over the next 12 months fell, manufacturers are still cutting jobs, and hiring in services slowed.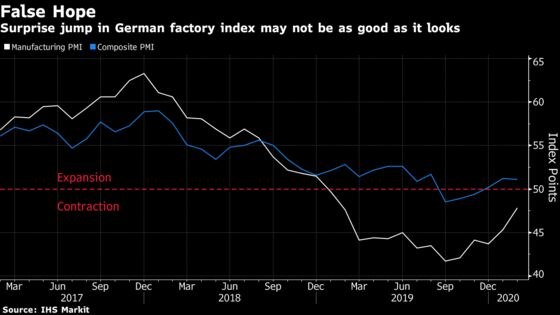 IHS Markit, which produces the data, said the factory index's climb to a 13-month high was likely a distortion caused largely by supply chain disruptions. The single currency still extended its gain on the day, and was up 0.2% to $1.0810 as of 09:47 a.m. Frankfurt time.
The number "flatters the sector's current trajectory," said IHS Markit economist Phil Smith. "These are still early days in what could potentially be a lengthy saga."
Overall economic momentum was broadly unchanged from January, signaling that domestic demand remains in reasonable shape. Services still slowed though, in part due to weaker tourist numbers.
The report illustrates the uncertain outlook for growth in the 19-nation euro area, potentially extending its protracted slowdown. Manufacturers in both Germany and France reported disruptions due to the coronavirus outbreak in China, where many factories have had to shutter their operations.