German Businesses Bet on Gradual Rebound From Virus Hit
(Bloomberg) -- German businesses are counting on an improvement in the economy in the second half after the coronavirus pandemic depressed private spending and investment and plunged the economy into a recession.

Companies surveyed by Ifo showed cautious optimism in May, with a gauge of expectations rising after the previous month's plunge. A full-fledged recovery though is still a long way off as consumers wary of infections keep away from shops and restaurants, and firms struggling with subdued demand cut jobs.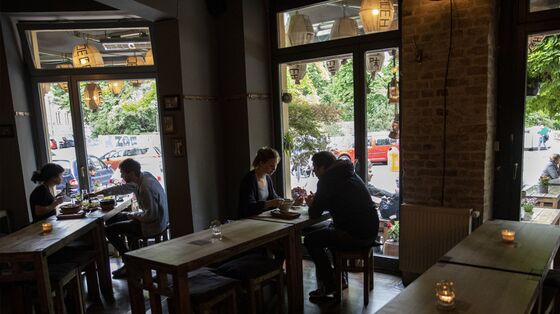 Less than two weeks of restrictions at the end of the first quarter to contain the spread of the disease led to Germany's worst contraction since the Great Financial Crisis. Private consumption fell the most in three decades, with only construction providing something of a cushion.
"Sentiment among German companies has recovered somewhat after a catastrophic few months," Ifo chief Clemens Fuest said in a statement. Still, "many companies are still pessimistic about their business. The gradual easing of the lockdown offers a glimmer of hope."
The German government has already mobilized more than a trillion euros ($1.1 trillion) to support households and companies, and is hammering out a plan for additional tools to aid the recovery. Chancellor Angela Merkel is also lobbying for a 500 billion-euro European fund together with French President Emmanuel Macron.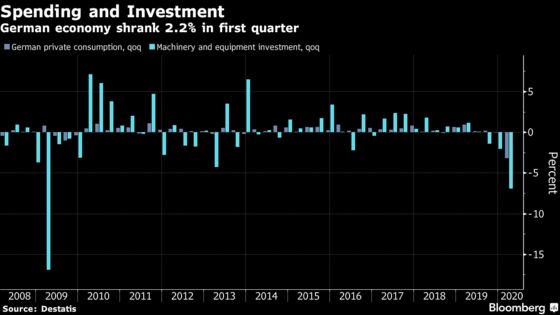 The Bundesbank has said this quarter should mark the trough of the downturn as restrictions are gradually lifted, but warned that uncertainty about the outlook is very high.
Much will depend on infections remaining low. Germany registered 342 new cases and 22 deaths in the 24 hours through Monday morning. The so-called reproduction factor that describes how many additional people become infected by a single positive case rose but stayed below a crucial threshold.
As the economy moves toward reopening, it's becoming clearer that a full recovery will be impossible until a vaccine or treatment is found for the deadly virus.
Volkswagen AG was forced to reduce output at its largest factory this month amid weak consumer appetite for new cars, after restarting output just a few weeks earlier. Retailers are struggling with sluggish demand.
Manufacturers and service providers continued to report steep drops in output this month, though at a slower pace than in April.
| Ifo survey | May | April |
| --- | --- | --- |
| Business climate | 79.5 | 74.2 |
| Current conditions | 78.9 | 79.4 |
| Expectations | 80.1 | 69.4 |
Still Germany isn't faring as poorly as much of the rest of the euro area. That's partly because the nation was more successful in containing the virus and eased its lockdown restrictions sooner.
The economy is also more reliant on manufacturing and trade which, while badly hit, have weathered the crisis slightly better than the services and tourism industries that are dominant in Europe's south.
The European Commission forecasts that the German economy will shrink by 6.5% this year -- the worst recession since Word War II, but still better than an expected contraction of more than 9% in Italy, Spain and Greece.