German Companies Have a Brexit Plan: Send the Bill to the Brits
(Bloomberg) -- Want the lowdown on European markets? In your inbox before the open, every day. Sign up here.
As U.K. Prime Minister Theresa May struggles to secure a Brexit deal her parliament can accept, business leaders in Germany's heartland are moving ahead with preparations to pass the pain on to British customers.
In the picturesque northern town of Lueneburg, several dozen executives packed into a 470-year-old former brewery this week for an in-depth briefing on how to brace for Brexit. The gathering was the latest of more than 150 such events to help businesses get ready for the fifth-largest importer of German goods quitting the EU.
In addition to the briefings, which have been attended by more than 10,000 people, Germany's chambers of industry and commerce set up a checklist so that companies can prepare for the change in the U.K.'s status. With or without a deal, German businesses aren't planning to foot the bill.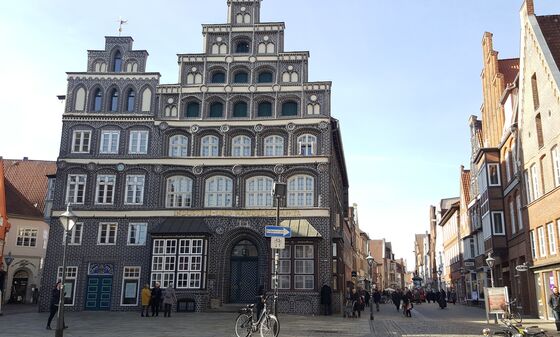 "Our company didn't cause Brexit, so why should we suffer for it," Axel Kiehne, sales manager at Dr. Kaiser Diamantwerkzeuge GmbH & Co. KG -- a maker of machine tools for high-precision grinding -- said at the event. "It might sound harsh, but the costs should be borne by the British companies."
Kiehne's attitude isn't isolated. The local chamber of commerce, which includes the region around Volkswagen AG's headquarters in Wolfsburg, lists price adjustments as one of its top five Brexit tips, because of the increased expense of exporting to the U.K. due to potential customs duties. Another executive for a food exporter at the event worried that tariffs could wipe out profit margins and destroy its business in the U.K., where the company ships over 600 tons of cheese annually.
Potential Pitfalls
British components may no longer count as EU content and that could affect whether they meet tariff-free criteria with partners like Japan and South Korea
Accessing corporate IT systems from British subsidiaries may breach EU data-sharing rules 
Accounting systems need to be able to allow the U.K. to reclassify as a "third country" for tax purposes to avoid potential penalties
Contracts need to be reviewed to clarify which country's laws are being applied and where conflicts will be resolved
Sending employees across the channel to attend conferences could raise visa issues
With the U.K.'s exit date looming at the end of March, German companies are increasingly worried about transport disruptions, especially if Britain crashes out without a deal. A subsidiary of packaging maker Wipak Oy is seeking to build up at least four weeks of inventory at its British sister company.
"I thought we would have a deal because everyone wants it," Karl Martin Fischer, manager for international business law at German Trade & Invest, a government development agency, told attendees. "But in the meantime, I'm a little worried." he added.
Fischer spoke before May on Tuesday promised members of Parliament a vote to delay Brexit and block a potentially disastrous no-deal split with the EU if they reject her divorce agreement next month.
Feldbinder Spezialfahrzeugwerke GmbH -- a maker of tanker trucks and trailers, which has a subsidiary in Lincolnshire, England -- is making sure it has stockpiles of parts and supplies on both sides of the channel. It's also adjusting its terms and conditions for U.K. customers to reflect risks of foreign-exchange fluctuations and delays from transport bottlenecks.
Aside from initial headaches, Brexit opens up broader strategic risks for small manufacturers like Dr. Kaiser, which employs about 300 people. The company's tools can grind materials down to one thousandth of a millimeter and the equipment is difficult to replace. But Brexit could prod British customers to look harder at alternatives, said sales manager Kiehne.
Amid all the risks, the expectation at the event was that a deal will come largely as envisioned in the divorce agreement negotiated between the two sides. Even if the U.K. delays Brexit by a few weeks or months, the main points of contention concern political issues rather than the nuts-and-bolts details critical to commerce.
"Nobody's talking about those issues, and that's good," said Fischer. "It's likely we will get a deal, but it's still very foggy."