Scholz on Track for German Chancellor as Coalition Nears Deal
(Bloomberg) -- Olaf Scholz is on track to become German chancellor as the three parties in talks to form a new government vowed to finalize a coalition agreement in the next week.
Key negotiators from Scholz's Social Democrats, the Greens and the pro-business Free Democrats will meet in the coming days with the aim of resolving remaining issues.
"The goal is very clear, to have a completed coalition agreement in the next week," SPD General Secretary Lars Klingbeil said in Berlin on Tuesday, adding that the main negotiators planned to meet on Wednesday, Friday and Monday.
Many matters have been resolved more quickly than expected, but outstanding issues remain, he added, declining to elaborate.
Financing is key battleground. The Greens and the SPD are looking to spend billions of euros on climate protection and upgrading Germany's infrastructure, while the FDP is seeking to maintain the country's tradition of fiscal discipline.
Klingbeil and his counterparts from the Greens and the FDP stuck to their goal to have a coalition in place to swear in Scholz as Angela Merkel's successor by the week of Dec. 6.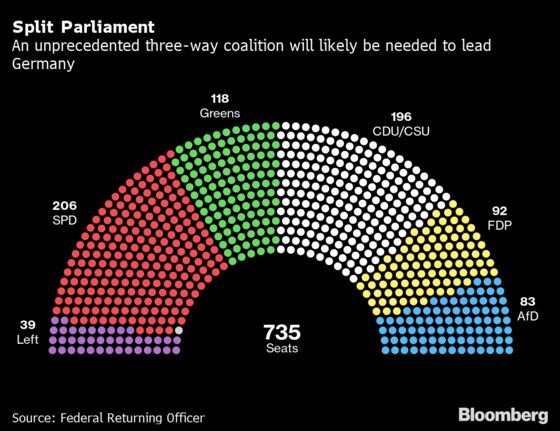 Scholz, who narrowly defeated Merkel's Christian Democratic-led bloc to win the the Sept. 26 election, would become Germany's ninth postwar chancellor. The country's fragmented political landscape pushed the three parties together. 
If the alliance comes together as planned, it would be a relatively swift resolution to talks among parties with starkly contrasting policy agendas.