German Christian Democrats Pick Merkel Foe to Lead Revival
(Bloomberg) -- Germany's Christian Democratic Union picked Friedrich Merz, a long-time rival of Angela Merkel, as its new chairman to lead the party's revival effort following September's bitter election defeat.
Signaling a significant shift to the right, 62.1% of CDU members who voted chose Merz, the party announced Friday in Berlin. It was the first time the CDU held a leadership vote among its members instead of party delegates at a specially convened congress -- and their third leadership contest since Merkel gave up the party chair in late 2018.
A jubilant Merz, who lost out in two previous votes, thanked CDU members and his two challengers, Merkel's ex-chief of staff, Helge Braun, and Norbert Roettgen, a former chairman of the Bundestag's foreign affairs committee. Roettgen secured 25.8% of the vote and Braun 12.1%.
"We have a task now in the opposition in Berlin," Merz said in his victory address. He said the party had been in a "state of emergency" for the past three years and pledged to prevent that from happening again.
The vote -- which will be rubber-stamped at a party congress in Hanover next month -- was needed to choose a replacement for Armin Laschet, who agreed to step down after a lackluster campaign condemned the party to its worst national election result since World War 2.
The CDU and its Bavarian CSU sister-party won a combined 24.1% of the vote and came second behind the Social Democrats, who scored 25.7%. They lead Germany's new government under Chancellor Olaf Scholz, an alliance of his SPD, the Greens and the pro-business Free Democrats.
Merz -- head of the CDU/CSU's parliamentary caucus from 2000 to 2002 -- has portrayed himself as a challenger to the CDU establishment Merkel dominated.
A champion of the party's conservative, pro-business wing, moderates view him as a relic of a back-slapping, old-boy's club that belongs in the past.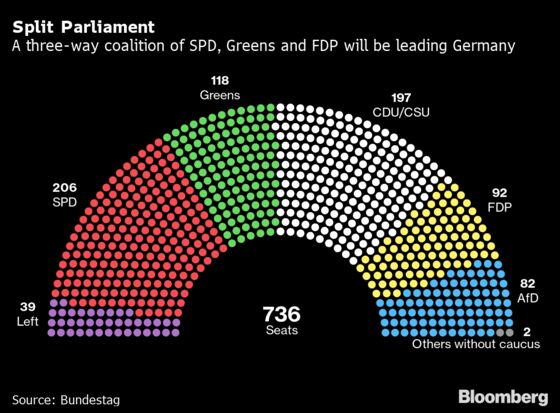 After having his political career eclipsed by the chancellor, Merz stormed back onto the scene in 2018 in an attempt to take control of the party, only to be thwarted in a close contest by former Merkel protege Annegret Kramp-Karrenbauer.
A corporate lawyer, he returned temporarily to his job at BlackRock Inc. He mounted another bid for the leadership after Kramp-Karrenbauer stepped down following a series of missteps but lost to Laschet.
More than 250,000 votes were cast out of a total of around 400,000 members, with roughly half participating online and half by post, the CDU said.