German Carmaker CEOs Are Said to Meet at White House Tuesday
(Bloomberg) -- The chief executives officers from Volkswagen AG, Daimler AG and BMW AG are set to attend a meeting with the White House scheduled tentatively for Dec. 4 as European and U.S. government officials look for a new trade agreement, according to people familiar with the matter.
The three German automaker CEOs -- Herbert Diess, Dieter Zetsche and Harald Krueger -- will meet with representatives from the U.S. government, the people said, asking not to be identified as the details aren't public. The exact timing of the event is still subject to change, they said.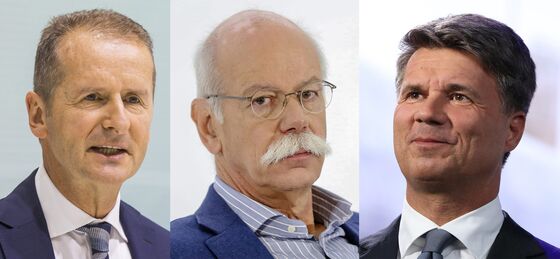 While carmakers are welcoming the dialog on an increasingly tense issue, they're uneasy on stepping into the European Union's remit on trade negotiations, and are closely consulting with the German government, the people said. Handelsblatt earlier reported a meeting had been set for Tuesday. Spokesmen for Volkswagen, Daimler and BMW declined to comment.
German carmakers are in the line of fire as U.S. President Donald Trump threatens to raise tariffs for auto imports in the world's second-biggest car market. While all three manufacturers produce cars at plants in North America, the U.S. remains the most valuable export market for E.U.-made cars. Next week's meeting could be a way to push the E.U. to a broader trade deal, after talks between Washington and Brussels got bogged down recently.
EU Trade Commissioner Cecilia Malmstrom was in Washington earlier this month to discuss a limited free-trade agreement with U.S. Trade Representative Robert Lighthizer. Those talks are mainly focused on regulatory cooperation and do not deal with tariffs on autos.