German Car Production Drops to 23-Year Low on Waning Exports
German car production fell to its lowest in almost a quarter of a century as Europe's biggest economy suffers from the fallout of a global trade war.
Automakers including Volkswagen AG, BMW AG and Daimler AG produced 4.66 million vehicles in German factories last year, the weakest since 1996. The country's VDA car lobby, which published the figures on Monday, said the 9% decrease was a result of waning demand from international markets.
The industry is set for more tough times this year. The VDA predicted global car deliveries will drop to 78.9 million vehicles from 80.1 million in 2019.
Germany's status as a global manufacturing powerhouse has been built on the carmaking industry, but pollution concerns -- intensified by Volkswagen's 2015 diesel-cheating scandal -- trade conflicts, and slowing economies have all weighed on demand. Daimler, Volkswagen and parts supplier Continental AG are slashing jobs to cut costs.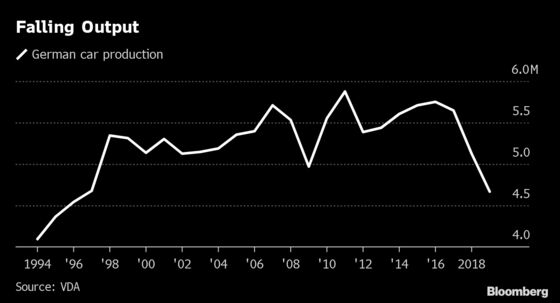 At the same time, the industry has to spend billions of euros to develop cleaner vehicles, self-driving features and counter the emergence of ride-sharing services like Uber Technologies Inc., which has a market value equivalent to Daimler.
Germany is particularly exposed to regulatory demands for cleaner vehicles because brands such as BMW, Porsche and Audi focus on power and performance. That prods the country's automakers to explore unusual projects.
At the CES electronics show in Las Vegas, Daimler's Mercedes-Benz unveiled a concept car inspired by the film Avatar. The electric-powered vehicle features lateral crab-like movement and biometric controls to allow "human and machine to merge."
Germany's domestic autos market grew 5% last year after buyers registered 3.6 million new cars, the VDA said, the most since 2009. However, the industry body has said the market is likely to contract this year and has predicted that job losses will accelerate amid the transition to electric cars, which require fewer parts and less labor to assemble.
The country cemented its recently acquired lead over Norway as Europe's biggest electric-vehicle market after selling 63,281 e-cars last year, according to latest data from the country's Federal Motor Transport Authority, or KBA.