German Banks Are Piling Into Cheap Debt
(Bloomberg) -- German banks are suddenly in an enviable position in Europe's bond market.
Lenders in the largest euro-zone economy are reveling in a new-found freedom to sell low-cost senior preferred bonds after the government last month rewrote debt rules that had driven up their borrowing costs. The banks also benefit from debt cushions that surpass requirements by tens of billions of euros -- something other European lenders can only dream of as they work to close gaping shortfalls.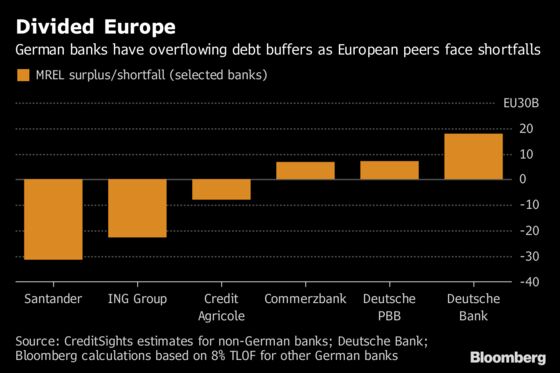 German banks "can issue senior preferred bonds at quite good levels, as they have such large buffers," said Suvi Platerink Kosonen, a bank credit analyst at ING Groep NV. "The rest of Europe is coming from a different direction -- building buffers little by little."
Non-German banks need to sell about 150 billion euros ($175 billion) of costly bail-in bonds by 2022, according to CreditSights estimates, after regulators in countries including France and Spain took a different approach to Germany in meeting new bank-capital standards. German lenders are free from these concerns and can instead focus on selling cheap senior preferred notes -- Berlin Hyp AG, Commerzbank AG and Deutsche Bank AG issued a combined 3.05 billion euros of the low-risk notes in debut sales last week.
"Investor response for senior preferred bonds has been positive," said Jonathan Blake, Deutsche Bank's head of issuance. "Demand is helped by the single A rating and relative remoteness from bail-in."
Commerzbank paid 65 basis points above midswaps to sell 10 year preferred senior notes last week, versus 82 basis points on senior non preferred notes in February. The lower risk notes let the bank pare funding costs even amid a general widening of spreads in Europe's bond market this year.
German banks have overflowing debt buffers because local lawmakers turned previously untouchable senior bonds into bail-in notes in 2015. The move let lenders instantly meet bail-in standards at the cost of stoking borrowing costs by making senior notes riskier. Bail-in cushions are designed to shield taxpayers from losses in the event of bank running into difficulties.
French and Spanish regulators left senior notes untouched in their rule rewrites and introduced a new class of bonds lower down the capital structure. The new senior non preferred notes are expensive to issue because investors demand premiums to match the bonds' greater risks. That may prove a drawback as non-German lenders make up their debt-buffer shortfalls, which are calculated using standards called MREL, or Minimum Requirement for own funds and Eligible Liabilities.
"They are the latecomers," said Felix Biedermann, a partner at law firm Simmons & Simmons. "German banks were forced to do the MREL financing early, while the others probably missed out on filling their buffers voluntarily."