German Bankers Brace for More Cuts After Losing 188,000 Jobs
(Bloomberg) -- (Machine translation provided by Google and reviewed by Bloomberg editors)
After lenders in Germany have already slashed about 188,000 jobs since the year 2000, many employees are now increasingly seeing digitalization as the next big threat to employment.
In the country's private banking industry alone, around 40 percent of employees believe that digitalization will worsen long-term job security over the next two years, according to a study by the employers' association seen by Bloomberg. In a 2015 survey, only 31 percent of respondents expected a deterioration. At the same time, the proportion of those predicting improvements has remained almost constant at around 25 percent.
"Many lenders are currently changing their business models, with jobs being lost as a result of digitalization, but there are also many new jobs, especially at the interface between banking and IT," said Carsten Rogge-Strang, Managing Director at the employer association for private banks.
He represents the interests of private lenders in Germany, among them Deutsche Bank AG, Commerzbank AG, Bankhaus Lampe KG as well as Bausparkasse Schwaebisch Hall AG. Savings banks, cooperative banks and development banks are organized differently.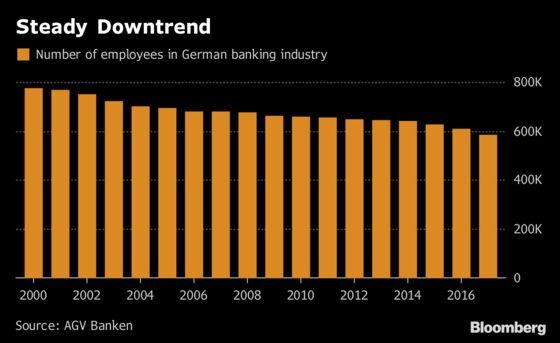 According to Rogge-Strang, many jobs that are currently being created by lenders are increasingly for professions that are not part of the traditional banking business, for example from areas like mathematics. "For some positions, it does not even matter what field applicants come from, as long as they do have interest and expertise in designing digital transformation processes," he said.
In addition, specialists for regulation, compliance and control functions are increasingly in demand, he added.
Matthias Schellenberg, CEO of Merck Finck Privatbankiers AG, also stressed the importance of new jobs. "If you look at what vacancies are advertised by lenders, then two areas have gained tremendous weight - IT and compliance," he told Bloomberg. "However, anyone who understands digitalization as a pure cost-cutting and job-cutting program does not see the challenges behind it and the opportunities that arise." Digitalization creates more time for advising clients, he added.
All in all, new hires do not make up for the reduction in staff numbers caused mainly by digitalization, Rogge-Strang said. According to him, simple activities in processing and service units are being eliminated now.
The number of employees at private lenders, savings banks, cooperative banks, regional state lenders and development banks in Germany shrank from 774,550 in 2000 to 586,250 in 2017, according to numbers from the employer association for private banks which also collects data from other banking groups. Job losses occurred in all banking subsectors.
Original Story:
Deutsche Banker fürchten mehr Abbau nach Aus für 188.000 Jobs
Reporter on the original story: Stephan Kahl in New York at skahl@bloomberg.net
Editor responsible for the original story: Erhard Krasny at ekrasny@bloomberg.net