Geopolitics, Covid Put Emerging Markets on Brink of 2021 Decline
(Bloomberg) -- Emerging-market currencies are close to erasing their gains for the year as geopolitical risks in Eastern Europe, rising Covid-19 cases, and a stronger dollar quash investor appetite for risk. 
The ruble was the worst performer against the dollar among its developing-nation peers on Monday after the latest report on the possibility of Russia invading Ukraine, something Moscow again dismissed. Hungary's forint tumbled to a record low against the euro as coronavirus infections surged. The Polish zloty, meanwhile, was trading at its weakest level in more than a decade as the nation's prime minister warned that a migrant crisis on its border with Belarus was part of a "synchronized" series of events.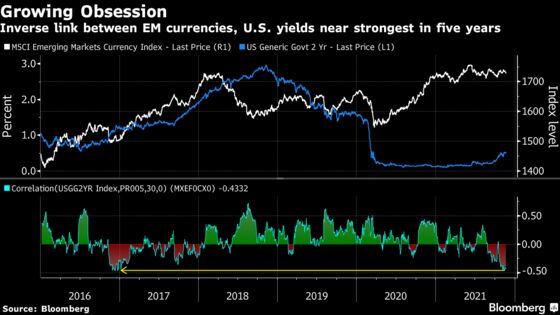 Already under pressure from a stronger dollar and the prospect of rate hikes in developed nations, the emerging-market investment case is darkening as the year draws to a close. Geopolitical risks emanating from Eastern Europe helped drive the MSCI EM Currency Index lower on Monday, leaving it just 0.5% away from erasing its gains for the year.
The selling pressure "is driven by escalating market concerns" around Ukraine, Belarus and Russia, said Piotr Matys, a senior currency analyst at InTouch Capital in London. "The outlook for emerging markets is looking challenging as the surge in inflation may force the Fed and other major central banks to follow their peers in developing markets and raise rates," he said.  
Investors are hedging against the risk of wider price swings. JPMorgan Chase & Co.'s gauge of implied volatility in developing currencies rose above 10% for the first time since April. 
On a day when most emerging markets were falling, one currency stood out. Turkey's lira, the worst-performing developing currency this year, rallied on Monday after falling for nine sessions in a row.