Gensler Confirmation Nowhere in Sight as GameStop Tests SEC Role
(Bloomberg) -- The GameStop frenzy roiling Wall Street has caught the Securities and Exchange Commission operating under temporary leadership, and the Senate has yet to schedule a hearing for President Joe Biden's pick for the agency, Gary Gensler.
Gensler's eventual confirmation is a virtual certainty, but it could take weeks or months for the Senate to approve him, as the chamber is focusing first on Biden's cabinet-level nominations, as well as virus relief and former President Donald Trump's impeachment trial.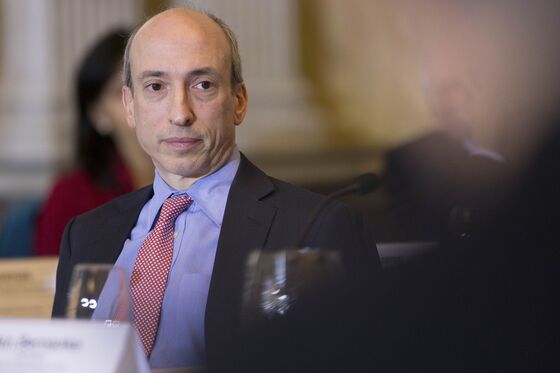 Gensler has a reputation as a tough regulator, and he's supported by incoming Banking Chair Sherrod Brown. He received 88 Senate votes for confirmation as chairman of the Commodity Futures Trading Commission in 2009 when Democrats controlled the majority.
This month, Senate action has been slowed by ongoing wrangling between Democratic and Republican leaders over how to govern a 50-50 Senate and organize committees. The Senate Banking Committee on Thursday is holding a hearing for Marcia Fudge as Housing and Urban Development secretary and Cecilia Rouse to lead the Council of Economic Advisers.
The voliatlity surrounding GameStop and several other stocks has already drawn the attention of the White House, and the SEC issued a statement saying it is monitoring the situation. Democratic Senator Elizabeth Warren and other progressive lawmakers demanded a regulatory crackdown from the SEC and other regulators.
Allison Herren Lee, a Democratic commissioner, is currently serving as the acting SEC chair.
It's not unusual for the Senate to take several months before considering a new president's pick to head federal agencies. Trump's nomination of Jay Clayton for SEC chairman didn't get confirmed until May 2017, even though he was nominated in January of that year. Gensler's confirmation as CFTC chairman in 2009 didn't happen until May, even though the U.S. was dealing with the financial crisis.
Mandi Critchfield, a spokesman for Senator Mike Crapo, the outgoing Banking committee chair, indicated that a hearing for Gensler wouldn't be scheduled until after Senate leaders agree to an organizing resolution.
"I assume it will be Chairman Brown scheduling the Gensler hearing," she said.
Dealing with the chat room and Reddit-fueled stock speculation that has roiled GameStop and other stocks will be a challenge for the SEC.
House Speaker Nancy Pelosi told reporters Thursday that regulators will be watching the situation closely.
"I understand that the administration is taking a look, the SEC is taking a look," Pelosi said Thursday. "It's interesting."