General Mills Dives Most in Six Months as Revenue Falls Short
(Bloomberg) -- General Mills Inc.'s gains last quarter weren't enough to calm investors, who drove the stock down the most in six months.
While net sales rose for a third straight quarter, they missed analysts' estimates. Sales in North America -- its biggest region -- fell, dragged down by declines in U.S. snacks and yogurt.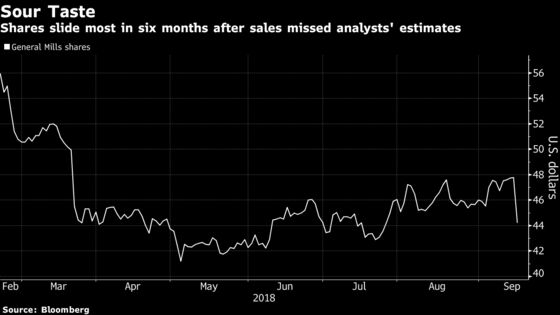 The company has been searching for growth with Yoplait, including the recent addition of YQ, a new variety that's less sweet and made with ultra-filtered milk. Last year, it introduced Oui, a yogurt with French heritage. Meanwhile, General Mills faces pressure to bolster Blue Buffalo, a premium pet-food brand that it spent about $8 billion on earlier this year.
"We paid a lot of money for it because it's a great brand," Chief Executive Officer Jeff Harmening said in an interview. He likened the purchase to that of the Annie's organic line that the company bought in 2014.
"There's even more runway to grow Blue Buffalo than there was for Annie's," he said.
Shares of General Mills sank as much as 8.8 percent to $43.57 Tuesday in New York, their biggest drop since March. The stock had already slid 19 percent this year through Monday's close.
In a bright spot, the U.S. cereal unit posted a gain in sales for a second straight quarter.
Results and Outlook
1Q adjusted EPS 71c, estimate 64c (range 62c to 67c) (Bloomberg data)
1Q net sales $4.09 billion, estimate $4.12 billion (range $4.06 billion to $4.17 billion) (BD)
1Q organic volume growth -1%
1Q adjusted gross margin +33.6%, estimate +34.3% (BD)
1Q adjusted operating profit $641.3 million, estimate $621.5 million (range $609.0 million to $639.0 million) (BD)
Reaffirmed Year Fiscal 2019 Outlook