GE's Shock CEO Ouster Leaves Billions in Disposals Up for Grabs
(Bloomberg) -- General Electric Co., a prolific dealmaker throughout its 126-year history, began the biggest reorganization ever under Chief Executive Officer John Flannery.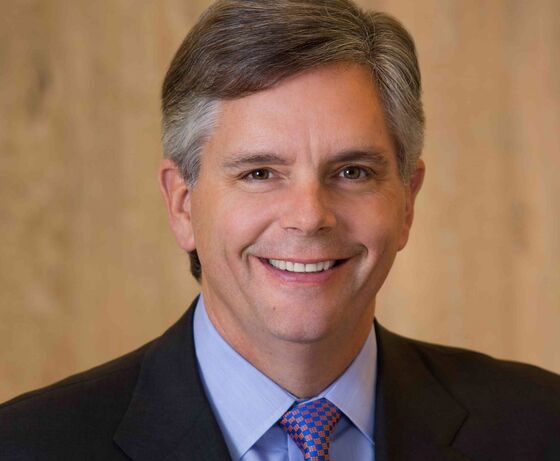 While he closed at least a dozen of those deals, including sales of the company's energy finance, transportation and industrial solutions units, his plan to streamline GE failed to win over investors as sales slumped and shares sank. Several transactions were still on the table when he was pushed out, and while Culp has yet to lay out his strategy, Bloomberg reported last week that purpose of the CEO swap was to speed up Flannery's plan, not to change directions.
Here's what we know is up for grabs:
In June, Flannery announced plans to spin off GE's medical-equipment business, pulling out of the health-care market as part of an overhaul that refocused the company on power, renewable energy and aviation. The spinoff is due to be completed by the end of 2019.
GE plans to offload its 62.5 percent stake in oilfield-services company Baker Hughes over the next two to three years, likely via a series of share sales rather than a wholesale spinoff or sale, according to analysts including Sonny Randhawa at Seaport Global Securities LLC. GE shelled out more than $12 billion trying to expand in the oil and gas market from 2007 to 2014.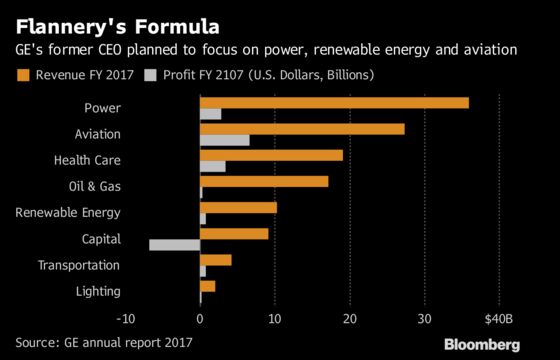 GE Capital
In June, Flannery said that by 2020 he would sell off the bulk of what's left of GE Capital, the company's once-massive financial services arm, which crippled GE during the financial crisis. His predecessor, Jeff Immelt, got rid of most of its sprawling lending operations, enabling the company to shed its status as a too-big-to-fail financial institution.
Flannery laid out plans to unload $25 billion in assets from its energy and industrial finance operations. That would primarily leave GE Capital with a world-class aircraft leasing business, though that could potentially be up for grabs too. GIC Pte., Singapore's sovereign wealth fund, has expressed interest in purchasing it, people familiar with the matter said in September.
On Monday, Apollo Global Management LLC agreed to acquire about $1 billion of equity investments in energy assets from a unit of GE Capital, a deal that could pave the way for similar transactions in the future.
GE also said in June that it was exploring options to reduce its insurance exposure, after booking a $6.2 billion charge earlier in the year tied to an old portfolio of long-term care insurance. That's piqued the interest of at least one potential suitor. Athene Holding Ltd., an annuity seller with ties to Apollo Global Management LLC, has expressed interest in buying all or some of GE's insurance business, a person familiar with the matter said in June.
GE tapped bankers to unload a unit within its power operations formerly known as Converteam, which could fetch about $1.5 billion, people familiar with the matter said in August. That would be well under the $3.2 billion GE paid for it in 2011. This divestiture fell within Flannery's straightforward efforts to simply streamline the conglomerate. The business builds motors, generators and automation controls for the marine transportation and oil and gas industries.
While Immelt wanted to make GE into a top 10 software company, Flannery had other ideas. GE is seeking buyers for key parts of its digital business, including its software arm, the Wall Street Journal reported in July. That unit uses sensors and data analytics to help manufacturing equipment run more efficiently. While GE's digital operations are a relatively small part of the company, the potential retreat underscores how GE's days as a free-spending conglomerate are past.