Sarepta Craters as Gene Therapy Miss Sparks Unease for Peers
(Bloomberg) -- Sarepta Therapeutics Inc. shares were halved in late trading after a key study from the industry leader missed lofty investor expectations and turned up the pressure for peers developing gene therapies.
By a key measure, results from the company's highly-anticipated trial for its gene therapy as a one-time treatment for the rare disorder Duchenne muscular dystrophy failed to show benefits compared to a placebo. The miss stirred doubt on the potential for the therapy and spooked investors in rival companies such as Solid Biosciences Inc. and Rocket Pharmaceuticals Inc.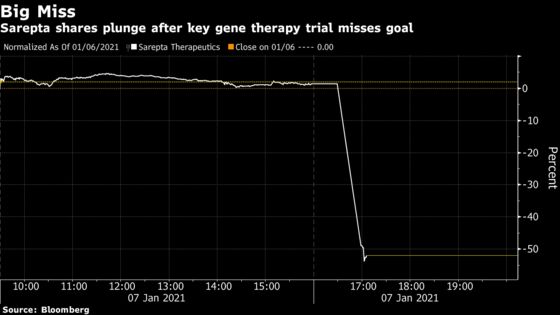 Sarepta shares plunged as much as 54% when trading resumed after being halted for the news. The closely-watched iShares Nasdaq Biotechnology ETF, known as the IBB because of its ticker symbol, dipped 0.8% in postmarket trading.
Solid Biosciences, which is studying a competing DMD gene therapy, fell as much as 35% to lead underperformers in postmarket trading, while Rocket Pharma fell 4.7%.
Analysts had piled on praise for Sarepta and its gene therapy platform in the weeks leading up to Thursday's data. Earlier, Baird analyst Brian Skorney added the stock to the bank's "Fresh Pick" list and said the data were among the most binary single-stock events of the first three months of 2021.
Read more: Pfizer Doses First Patient in Key Phase 3 DMD Gene Therapy Study