GE Wraps Up Its Best Month On Record, Driven by Culp's Revamp
(Bloomberg) -- Larry Culp hasn't been General Electric Co.'s chief executive officer for long, but he already has an impressive accomplishment under his belt.
With a 34 percent gain in January, GE's stock just closed its best month on record, according to data compiled by Bloomberg going back to 1971. A surge on Thursday -- driven by Culp's efforts to ease investor fears, tackle sizable debt and improve earnings -- pushed the advance past even the best months of GE's recovery from the 2008-09 financial crisis.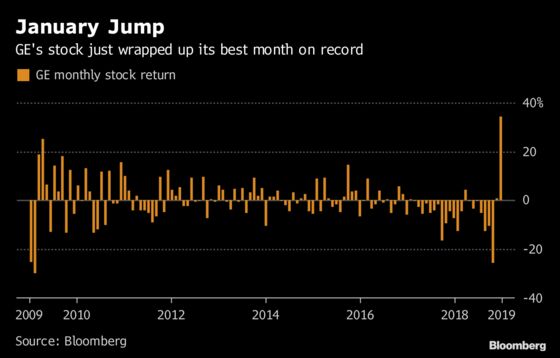 "GE appears to have turned a corner," Deane Dray, an analyst with RBC Capital Markets, said in a note Friday as he boosted his target price by two bucks to $12 a share. "Larry Culp appears to have a good handle on the Gordian Knot of GE's turnaround, methodically attacking each operating challenge, listening intently to customers and sifting through alternatives to the existing road map to maximize shareholder value."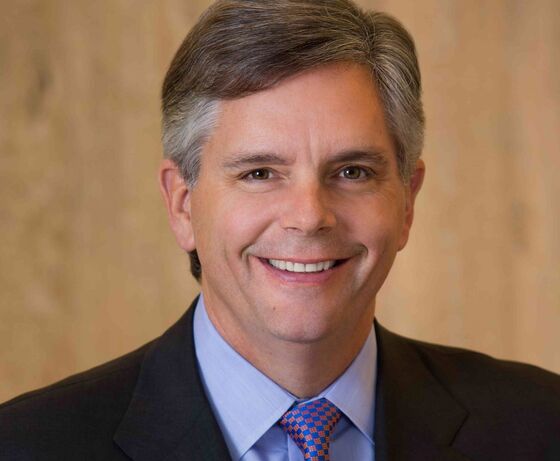 Investors are putting their faith in Culp as he tries to stem one of the worst slumps in GE's history. The stock plummeted 76 percent over 2017 and 2018, wiping out more than $200 billion of shareholder value and prompting GE's removal from the Dow Jones Industrial Average.
The shares have been gaining steadily since mid-December, when an analyst upgrade and speculation of possible cash-generating sales buoyed investor sentiment. With another 1.7 percent gain to $10.33 a share as of 12:17 p.m. Friday, GE has jumped 54 percent since Dec. 12, the recent nadir.
"GE's new CEO has begun to implement the foundational components of GE's resurrection," Nicholas Heymann, an analyst with William Blair & Co., said in a note. The earnings-day gain of 12 percent solidifies the "inflection in investor sentiment."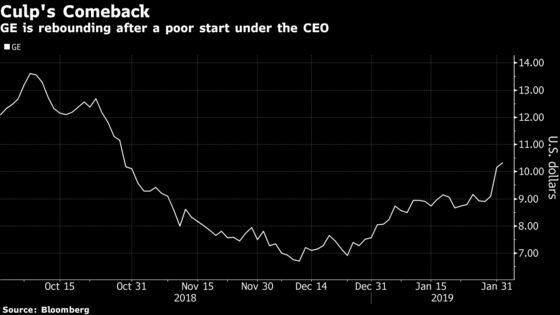 GE's advance last month was part of a broad upswing as the S&P 500 Index jumped the most in three years. But the Boston-based manufacturer still stood out, with the third-highest jump on the stock gauge.
There's hardly a consensus that GE's rally will last. Jeffrey Sprague of Vertical Research downgraded GE on Thursday to hold, saying the "outlook remains very uncertain."
Then there's Steve Tusa, the JPMorgan Chase & Co. analyst and longtime GE bear whose December upgrade to neutral was a big catalyst for the share gains. He isn't exactly a bull these days.
Following Thursday's surge, Tusa said in a note that he and his team came away "scratching our heads at the stock reaction."