GE Ousts Flannery After Slump, Names Lawrence Culp CEO
(Bloomberg) -- General Electric Co. ousted CEO John Flannery just over a year into his tenure and replaced him with a renowned turnaround expert -- a surprise move that stoked the biggest rally in nine years for the company's depressed shares.
Larry Culp, who won Wall Street's praise for transforming manufacturer Danaher Corp., takes over immediately amid one of the deepest slumps in GE's 126-year-old history. The Boston-based company signaled more pain ahead, warning it would miss its 2018 earnings forecast and write down about $23 billion of goodwill associated with its struggling power segment.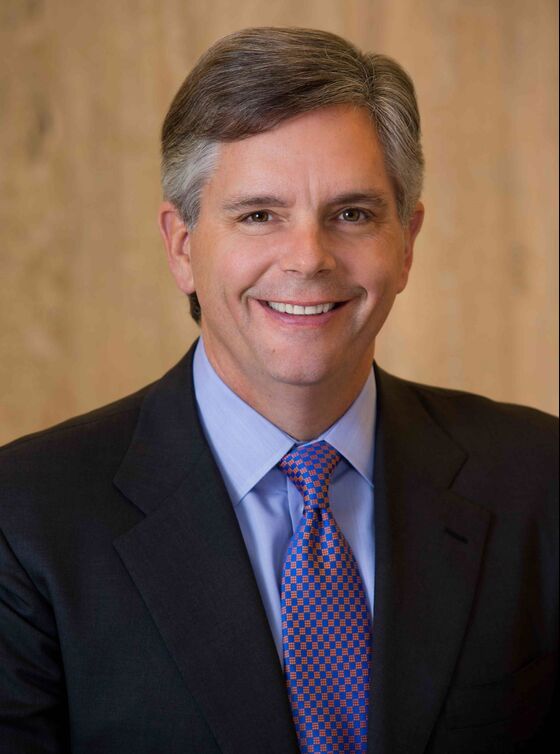 "He's an outsider and maybe it's going to take an outsider to come in and fix this thing," Scott Davis, an analyst with Melius Research, said of Culp, who joined GE's board in April. Flannery "seemed like he was on the right path, but he was slow."
The stunning shakeup underscores the urgency at GE, which has lost half a trillion dollars in market value since the peak in 2000. Flannery's plan to streamline the behemoth failed to win over investors, and the share decline worsened after he ascended to CEO in mid-2017. During that time, GE has faced cash-flow shortfalls, slumping demand and investigations by the U.S. Securities and Exchange Commission.
The shares surged 10 percent to $12.47 at 11:12 a.m. in New York after advancing as much as 16 percent for the biggest intraday gain since March 2009. At its peak, the rally pushed GE to the highest level in almost two months. The stock fell 35 percent this year through Sept. 28 after tumbling 45 percent in 2017. GE was expelled in June of this year from the Dow Jones Industrial Average.
GE declined further comment and had no conference call planned.
Flannery had taken a series of steps to try to stop the bleeding, including cost cuts and significant portfolio changes. He had already pledged to sell or spin off longtime GE businesses including transportation, health care and lighting while narrowing the remaining company's focus on power generation, aviation and renewable energy.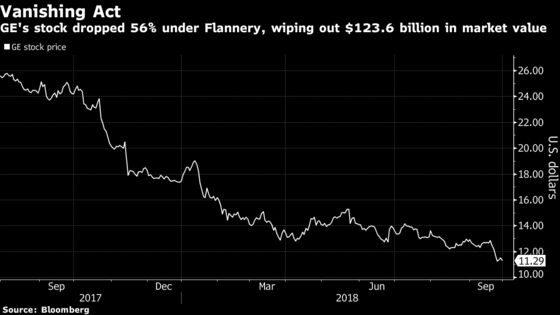 Culp, 55, becomes the first outsider to take over as GE's CEO, highlighting the monumental changes and challenges afoot at the beleaguered manufacturer.
"We will be working very hard in the coming weeks to drive superior execution, and we will move with urgency,'' Culp said in a statement.
Flannery announced much of his plan after Culp joined the board, and the new CEO won't necessarily ditch it. But he's likely to step up the urgency to "re-baseline the company, drive execution and make long-term decisions that benefit the company and shareholders," said Steve Winoker, an analyst at UBS Group AG.
"It is hard to refute Larry Culp's track record and accomplishments at Danaher," Winoker said in a note to clients. "High performance culture, execution and strategy were hallmarks of the company. Of course, GE is in a very different starting position than Danaher at the time with GE's power, balance sheet and cash challenges."
Flannery took over last year as CEO from Jeffrey Immelt, whose 16-year tenure followed Jack Welch's two-decade run.
"When John Flannery was appointed CEO in August 2017, he faced a company in a very difficult balance sheet position, and I am grateful for his efforts in outlining a new direction for GE," Welch said in a statement. "Larry Culp had a great run at Danaher, where he transformed the company over some 14 years of sustained success."
Immelt, in a separate statement, said Culp's "expertise and experience are aligned perfectly with GE's needs."
Culp's time as CEO of Danaher was marked by expanding the reach of the company into fields as diverse as dental imaging and water filtration. More than 90 percent of the transactions Culp oversaw at Danaher were company takeovers, according to data compiled by Bloomberg.
Deal volume topped $22 billion during his 14 years at the head of the company, with his biggest move being the 2011 acquisition of diagnostic-equipment maker Beckman Coulter Inc. for $6.8 billion.
While GE said it would fall short of its earnings forecast this year of $1 to $1.07 a share, the company didn't provide a new outlook. GE had previously guided to the low end of the range. The manufacturer also said it would fall short of its outlook for 2018 free cash flow, which Flannery had pegged at about $6 billion.
Still, GE is likely to have a "hard" reset of its earnings guidance, said Andrew Obin, an analyst at Bank of America Corp., who cut his price target Monday to $14 a share from $16. GE plans to report third-quarter results later this month.
The impairment charge is the latest setback for the struggling power unit, which has grappled with falling demand for gas turbines, declining market share and, recently, technical problems. GE disclosed last month that its flagship turbine is facing an "oxidation issue'' that forced a customer to temporarily shut down two U.S. power plants. Last week, that prompted the biggest weekly decline since March.
Analysts have been bracing for a writedown after Flannery acknowledged that the power assets acquired from Alstom SA in 2015 weren't performing up to expectations. Immelt pushed through the $10 billion deal just as the market started to turn.
Business units besides the power division are performing to expectations, GE said.