GE Surges After Burning Less Cash in the First Quarter
(Bloomberg) -- General Electric Co. climbed after revealing that it burned less cash to start the year, bolstering Chief Executive Officer Larry Culp's effort to rejuvenate the ailing manufacturer amid a global slowdown in the power-equipment market.
GE's industrial businesses went through $1.22 billion in cash in the first quarter, the company said Tuesday as it reported earnings. That was better than Wall Street's expectations for minus $2.9 billion in free cash flow, and an improvement over last year's outflow of $1.76 billion.
"GE started its 2019 'reset year' with nice momentum," Deane Dray, an analyst at RBC Capital Markets, said in a note to clients. While GE warned that cash performance may not be as strong later this year, investors were pleased to see the company tempering enthusiasm instead of "apologizing for a shortfall."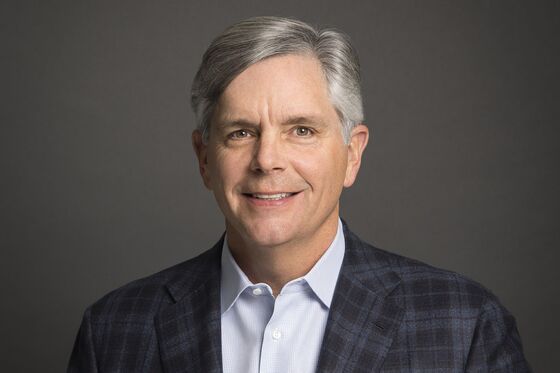 The results provide the first glimpse of what is expected to be a difficult year for cash generation after Culp warned last month that GE would burn as much as $2 billion in 2019. The company anticipates a rebound next year as Culp seeks to repair the balance sheet and regain investor confidence amid one of the worst slumps in the company's 127-year history.
GE rose 4.9 percent to $10.21 at 11:31 a.m. after advancing as much as 8.2 percent for the biggest intraday gain in two months. The shares climbed 34 percent this year through Monday, topping the 21 percent increase in a Standard & Poor's index of industrial stocks.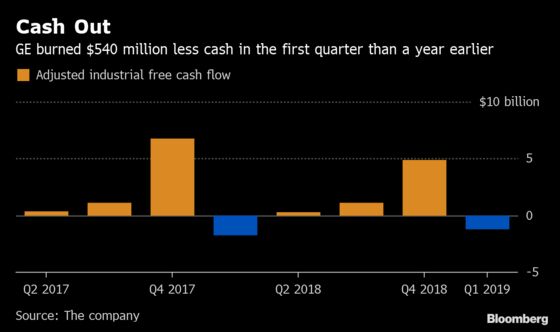 "This is fundamentally a no-news quarter," Culp said in an interview. He reaffirmed the forecast for 2019 profit and cash flow. "No news is good news, I guess, in the eyes of some investors."
The better-than-expected cash performance was driven largely by timing, as orders in the gas-power and other businesses came earlier than expected, Chief Financial Officer Jamie Miller said on a conference call with analysts. Industrial free cash flow is a closely watched metric that's considered a gauge of earnings potential.
Miller and Culp warned that the relative strength will balance out over the course of the year, which is why there was no change to the 2019 outlook. The first quarter was tempered by a $1.9 billion outflow related to working capital, which the company attributed to "inventory build" and other collection issues in the power and renewable-energy businesses.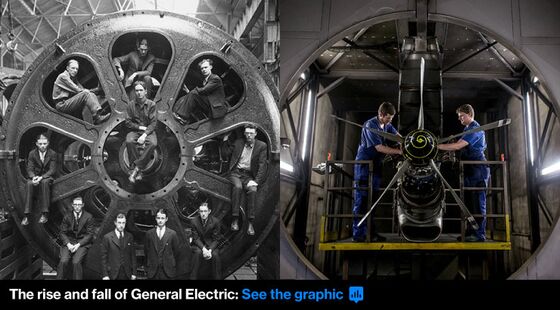 GE also topped expectations for profit and sales in the quarter. Adjusted earnings of 14 cents a share compared with the 9-cent average of analyst estimates. Revenue fell 1.8 percent to $27.3 billion, ahead of expectations of $27.1 billion.
The aviation unit, one of the bright spots for GE during a dismal past two years, again provided a boost, with a 12 percent sales gain. But the division has its challenges. GE, which makes jet engines for the Boeing Co. 737 Max, called uncertainty around the plane's grounding a "new risk."
Culp said the cash-flow impact to GE will be similar to the headwind of 200 million euros ($224 million) anticipated by Safran SA, GE's partner in the engine joint venture.
Sales in the power-equipment unit continued to lag, falling 22 percent as Boston-based GE navigates a multiyear decline in the market. The business, which makes and services gas turbines and other machinery, has been a significant drag on GE's cash and earnings.
Culp, who assumed the top post in October, took one of his boldest steps yet to reshape the portfolio when he agreed in February to sell the biopharmaceutical division for $21.4 billion and shelve plans for a spinoff of GE's full health-care business. The move was part of a broader effort to narrow GE's focus, strengthen its operations, cut costs and improve the balance sheet.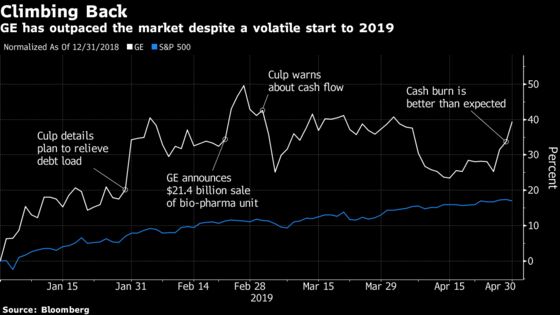 "The restructuring will ramp through the rest of the year, but it is a multiyear effort," Culp said. "We need to radically reset our cost structure."
The CEO is trying to reduce risk inside the company, highlighted by an agreement GE revealed during the quarter to pay $1.5 billion to settle a Justice Department investigation of a defunct subprime-mortgage business in GE Capital.
The once-vast finance arm reduced assets by $1.1 billion in the quarter and paid down $2 billion of external debt, GE said.
The company reaffirmed its forecast for adjusted earnings of 50 cents to 60 cents a share this year. Free cash flow in the manufacturing businesses will be zero to minus $2 billion. The results depend in part on the timing of asset sales and restructuring, as well as the outcome of the 737 Max grounding, which followed two deadly crashes in five months.