So Much for the John Flannery Era at GE
(Bloomberg Opinion) -- Time's up.
General Electric Co. announced on Monday that CEO and chairman John Flannery was out and would be replaced by former Danaher Corp. CEO Larry Culp, who was added to the board earlier this year. This is a bombshell even by the standards of GE, which has been rocked by one piece of bad news after another over the past few years as missteps including its mismanagement of a sharp downturn in its power business turned its reputation on its head.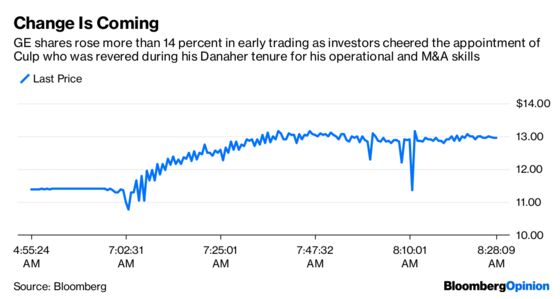 Investors have had their doubts about Flannery from the start: Did a 30-year veteran have what it took to undertake a dramatic top-to-bottom rethinking of a historic company that fostered his career? Flannery did deliver an aggressive breakup plan that included a spin-off of GE's health-care business, a divestiture of its Baker Hughes energy assets and a further shrinking of GE Capital. But the plan came almost a year into his tenure and was undermined by the continuing deterioration of GE's power business and lingering questions about the company's ability to meet leverage reduction goals.
Ultimately, Flannery's undoing may have been brought about by the same kind of stubbornness on financial projections that felled his predecessor, Jeff Immelt. Remember GE's goal of $2 a share in EPS? Immelt stuck by that for far too long even as a drop in the oil markets made it wildly unrealistic. Flannery rolled out 2018 EPS guidance for $1 to $1.07 a share at a November investor day that was meant to unveil a new direction and was widely regarded as a flop. While he marginally walked back that goal at the edges as the power market floundered, he refused to concede — until the board did it for him. In conjunction with the succession announcement on Monday, GE said that the company will fall short of its 2018 cash-flow and EPS guidance.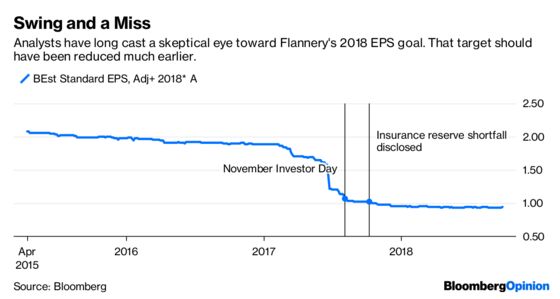 Perhaps Flannery could have saved himself by acknowledging the guidance shortfall earlier. He was more frank with investors than Immelt was about the problems the company was having. But he still couldn't shed the old GE loyalty to financial targets. It's been apparent to many critics that GE's goals weren't credible since way back in January, when the company was forced to disclose a $15 billion reserve shortfall in a legacy insurance business.
GE also on Monday said it would take a non-cash goodwill impairment charge that was likely to constitute substantially all of GE Power's current $23 billion goodwill balance. Part of that is likely due to GE's 2015 acquisition of Alstom SA's energy assets for about $10 billion, a deal orchestrated at least in part by Flannery who was at the time GE's M&A chief.
Flannery always had a short leash. He seemed to be finally finding his footing with the breakup plan, but it was seemingly too little too late. With the continued deterioration of the power market and the knocks to management's credibility on guidance, it was untenable to keep him.
This column does not necessarily reflect the opinion of the editorial board or Bloomberg LP and its owners.
Brooke Sutherland is a Bloomberg Opinion columnist covering deals and industrial companies. She previously wrote an M&A column for Bloomberg News.