GE Jumps on Surprise Profit as CEO Larry Culp Sees Turnaround Accelerating
(Bloomberg) -- General Electric Co. surged after a surprise profit and rebound in cash flow signaled that Chief Executive Officer Larry Culp's turnaround plan is regaining traction despite the coronavirus pandemic.
Adjusted earnings of 6 cents a share in the third quarter defied Wall Street's expectations for a 4 cent loss, and sales of $19.4 billion also exceeded analyst estimates. Industrial free cash flow, a key gauge of earnings power, will be at least $2.5 billion in the fourth quarter and positive next year, GE said Wednesday as it reported quarterly results.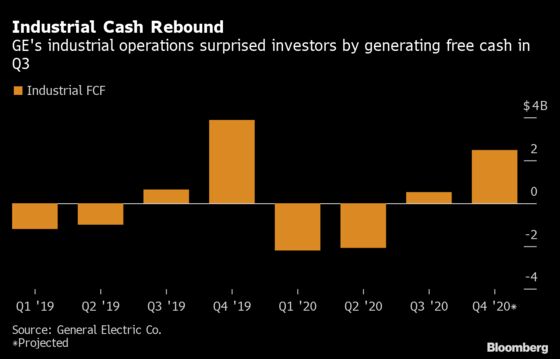 The financial improvement buoys Culp's effort to restart the repair job he was leading before the pandemic, when GE was attempting to emerge from an epic corporate collapse. Concluding this year with a big boost to cash flow points to a better 2021 after the virus upended GE's jet-engine division and slammed its other businesses earlier this year.
"The underlying momentum and traction I think we have suggests that we can be positive next year, and, over time, do much more," Culp said in an interview.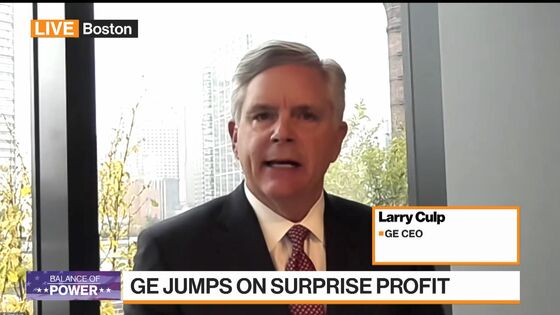 GE soared 8.4% to $7.70 at 2:26 p.m. in New York, confounding a slump in the broader market to post the biggest gain on the S&P 500 Index. GE tumbled 36% this year through Tuesday, compared with a gain of almost 5% in the broader stock gauge.
The results were "an across-the-board beat to our below-consensus numbers," Steve Tusa, a JPMorgan Chase & Co. analyst, said in a note to clients.
Tusa, whose bearish views on GE proved prescient when the company lost more than $200 billion in shareholder value in 2017 and 2018, has a neutral rating on the shares.
Industrial free cash flow was $514 million in the third quarter, GE said. Analysts had expected the company to burn through $968.3 million in cash.
A stronger performance by the health-care equipment unit and the improvement in free cash "are likely to reinforce the messaging that GE fundamentally bottomed," Gordon Haskett analyst John Inch wrote in a note to clients.
Still, the Boston-based company faces a "difficult climb-back" in the coming years, Inch said.
A major drag on the outlook is the longtime crown jewel of GE's industrial divisions, the jet engine unit, which has been laid low by the collapse in demand for air travel. Departures of jets powered by engines from GE and CFM International, a joint venture with Safran SA, are still down 40%.
"What you see globally is we've kind of flat-lined since Labor Day," Culp said of departures. "It's very hard to call the slope of the curve from here back to 2019 levels."
What Bloomberg Intelligence says

"GE's progress toward improved operational performance and a more sustainable financial condition is gaining momentum, despite virus-related setbacks in 2020. Aviation, GE's largest and most profitable unit, faces a slow air-travel recovery, and new aircraft orders could be depressed for a few years."

--Karen Ubelhart, industrials analyst

--click here to read the research
Orders at GE Aviation fell by more than half from a year earlier. Installations and GE's aftermarket business, which provides maintenance and spare parts to its existing fleet, are trending down by similar margins in October, according to a GE presentation.
Third-quarter orders also sank in GE's power equipment and health-care units.
An annual test of reserves that backstop a pool of long-term care insurance policies held by GE Capital didn't affect earnings. The policies have long been a money pit for GE.
"We're not trying to suggest that we're going to have positive margins from here," Culp said of the test result. "But I do think that it's a sign that this is less of a wild card the way that some might frame it."
GE also announced that it set aside $100 million for reserves tied to all matters under investigation by the U.S. Securities and Exchange Commission, which is probing past accounting issues tied to the insurance policies and power unit.
Culp said the company has been cooperating with the agency throughout the duration of the probe. The reserves are "quite appropriate under the circumstances," he said.
GE is also exploring whether it can reach a settlement with the agency "to fully resolve all matters that are under investigation," according to a company filing Wednesday. The SEC's staff is likely to recommend a civil enforcement action in its probe of GE's long-term care accounting issues, the company said in the filing.
"In the event that such an action is brought, GE believes it would have strong defenses to the proposed charges and would vigorously defend the case," the company said.