GE Jet Leasing Unit Already in 'Liquidation Mode,' JPMorgan Says
(Bloomberg) -- General Electric Co.'s jet-leasing business, often called the "crown jewel" of its financial arm, drew some fresh criticism on Tuesday from one of the top analysts covering the stock.
J.P. Morgan analyst Stephen Tusa said the unit has been selling off aircraft and buying new ones in a manner that is leaving it with lesser quality assets, as it tries to plug the cash flow shortfall of the broader financial business, GECS.
The analyst said GE has liquidated a cumulative $15 billion in aircraft over the past 4 years, or 48 percent of the starting aircraft portfolio at that time, "seemingly funding purchase commitments of new aircraft." Tusa, who now has a neutral rating on GE, had a sell rating on the company for more than two years, and upgraded the shares in December.
"We don't see a problem with portfolio 'churn' at face value, however underneath the surface of a highly opaque net income number, we see degradation in core returns, masked by substantial gains that are not being well disclosed, even relative to the past," Tusa wrote.
A GE representative did not immediately comment on Tusa's observations about GECAS, the jet leasing unit.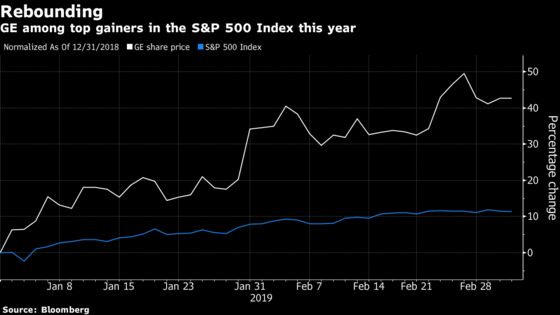 GE shares were gained as much as 1.8 percent on Tuesday. The stock has risen nearly 45 percent so far this year after plunging in 2017 and 2018.