GE Tops S&P After Tying $237 Million CEO Pay Goal to Stock Gains
(Bloomberg) -- General Electric Co.'s new boss could receive $21.3 million in annual compensation and earn shares worth more than $200 million -- but only if he manages to reverse the company's deep stock slump.
The odds on that bet are already improving.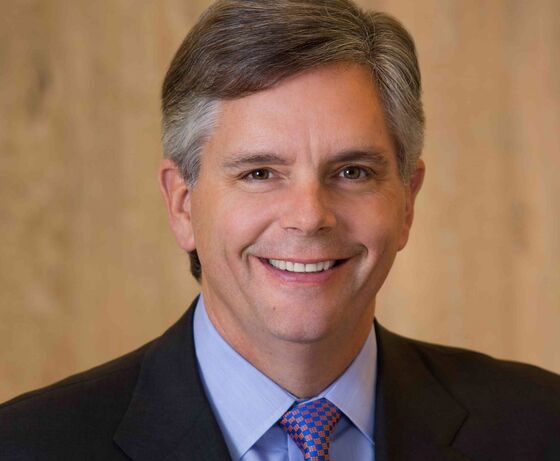 The shares surged Friday after GE revealed a pay package that depends heavily on Chief Executive Officer Larry Culp's ability to engineer an epic share rebound. Aside from a $2.5 million annual salary, the rest of his compensation -- including a $3.75 million target bonus, an annual long-term incentive of $15 million and a big grant of shares -- will only be paid out if he meets certain goals, GE said in a regulatory filing late Thursday.
"Larry is a proven executive with a long track record of superior execution, and the board's package to attract Larry is overwhelmingly tied to performance," the maker of gas turbines and jet engines said by email. "Nearly 90 percent of his annual pay will be at risk."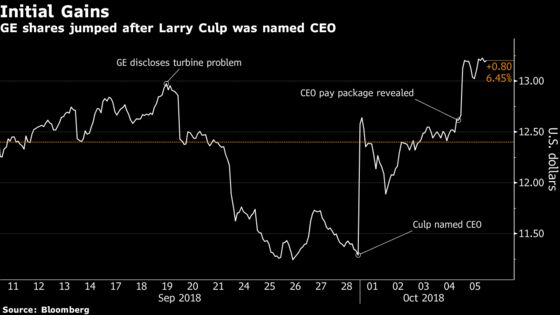 The agreement highlights GE's efforts to pull its stock out of a tailspin that had erased about $180 billion of investor wealth since the end of 2016. Under former CEO John Flannery, who was ousted in a surprise decision just 14 months into his tenure, GE was unable to overcome challenges ranging from poor cash flow to a sharp downturn in the market for power equipment.
The Boston-based manufacturer jumped 4.1 percent to $13.18 a share Friday in New York, the most in the Standard & Poor's 500 index. While that move capped GE's best week since March 2009, the shares are still down about 24 percent this year, compounding 2017's 45 percent slump. GE was expelled from the Dow Jones Industrial Average three months ago.
Culp, 55, the former head of manufacturer Danaher Corp., this week became the first outside CEO for GE in the company's 126-year history. He also took over as chairman, less than six months after joining GE's board.
As part of his pay package, Culp would collect as many as 7.5 million shares if GE's share price closes on average at least 150 percent above its current level for 30 consecutive trading days before Sept. 30, 2022. Such a gain would return the shares to their level in late 2016.
That block of stock would be worth $95 million as of Thursday's close, and would soar to as much as $237 million if the performance condition is met. Culp could earn fewer shares if the stock price increases at least 50 percent -- or none if the price falls short of that threshold.
"This overweighting of GE's stock price as a benchmark for Mr. Culp's incentive comp reinforces our view that he would not have taken on this job without clear line-of-sight on the turnaround strategy," Deane Dray, an analyst with RBC Capital Markets, said in a note. The terms of the pay package appear "well-aligned with GE shareholders."
The value of Culp's package could place him among the top-paid executives in the U.S. for 2018, according to the Bloomberg Pay Index of public companies. The big performance award resembles those given to KKR & Co. Co-Presidents Scott Nuttall and Joe Bae last year, worth about $177 million each, that were partly tied to stock-price growth.
Culp's special award tied to share appreciation will be adjusted for spinoff transactions or special dividends, GE said in the filing.
The company said it will disclose Flannery's exit package when it's finalized. The former CEO, who took the job in August last year, got $9 million for 2017, according to a regulatory filing earlier this year. That included $1.74 million in salary, stock options valued at $2.08 million and a $3.26 million adjustment to the value of his pension and deferred compensation.