GE Bonds Got the Ratings Downgrade Traders Had Been Expecting
(Bloomberg) -- Even General Electric Co.'s new savior may not be able to save the company's credit ratings.
S&P Global Ratings on Tuesday cut GE's bond grades to three steps above junk. Moody's Investors Service and Fitch Ratings have said within the last 24 hours that they may downgrade GE's debt as well, citing trouble at the company's power unit. Debt markets have expected such moves for most of this year, and its bonds trade as if they're in the lowest reaches of investment-grade, said Joel Levington, senior credit analyst at Bloomberg Intelligence.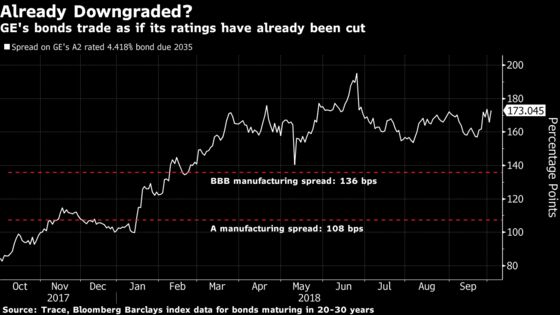 The cut and possible other downgrades come after the manufacturing conglomerate said it ousted John Flannery, its chief executive officer, and hired Larry Culp to replace him. The new CEO is a turnaround expert, and investors hope he can help fix a company that has lost half a trillion dollars in market value since peaking in 2000. The company's shares and bonds rallied on the news.
But along with announcing the new CEO, the company said its GE Power business has been performing worse than it had expected and will generate less cash flow than its prior forecast. S&P, Fitch and Moody's each cited the performance of that business, which builds turbines used for power plants, as the reason for their actions or potential moves.
A spokeswoman for GE said the company has a sound liquidity position, and although a strong credit rating is important for the company, the downgrade doesn't affect its ability to conduct business.
Boston-based GE had around $115.6 billion in short- and long-term debt as of the end of June, according to data compiled by Bloomberg. The company has decreased its short and long term debt by around $300 billion since the end of 2010 as it has shrunk its GE Capital unit and sold assets.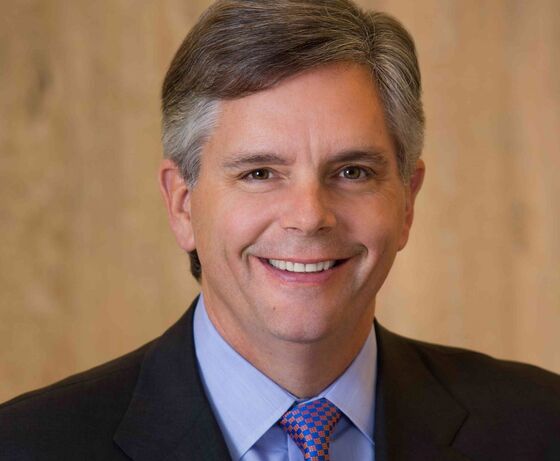 GE's long-term bonds have been lagging notes from competitors, even after Monday's gains. Fitch rates GE at A, or five steps above junk, and Moody's rates the company an equivalent A2. But the manufacturer's longer-term debt trades more like it's rated somewhere in the BBB tier, or one to three steps above junk, according to data compiled by Bloomberg. That's where S&P cut the company to: BBB+, a downgrade of two notches. Moody's said it may cut the company's ratings by more than one notch.
The yields on GE's debt maturing in January 2039 are about 1.78 percentage points above benchmarks. That risk premium, or credit spread, is around 0.4 percentage point higher than spreads for manufacturers with BBB tier credit ratings, according to data compiled by Bloomberg. GE's wider spread signals that money managers view the company as riskier than even the weakest investment-grade credits, at least over the longer haul.
"You could argue that there's a two-notch downgrade priced in already," said Zachary Chavis, portfolio manager at Sage Advisory Services.
Downgrades could have an impact on GE beyond any increase in its borrowing costs. Ratings cuts could force the company to post more collateral on derivatives trades, weighing on its liquidity, and could spur GE to cut its dividend again, according to a recent regulatory filing. The company said last year it was slashing its quarterly payout by 50 percent to 12 cents. Spreads on GE Capital International Funding's bonds maturing in November 2035, with a 4.418 percent coupon, widened 0.1 percentage point to 1.81 as of 2 p.m. New York time, according to Trace bond price data.
Debt investors may be bracing for downgrades, but they've been less concerned than shareholders this year. The company's shares have dropped around 30 percent in 2018, while risk premiums on its bonds have been more stable.
Bondholders had taken comfort in former CEO Flannery's efforts to simplify GE's business by selling assets and paying down debt, said Kent White, a portfolio manager from Thrivent Financial for Lutherans, which holds positions in GE.
"They are a little bit more focused on debt holders at this point," White said. "Reducing leverage is a focus for the company and those are generally things that bond holders like to hear."