Gasoline Prices Are Starting to Soar as Cold Blast Supply Chains
(Bloomberg) -- Hiccups in the U.S. fuel-supply system are driving up gasoline prices as refineries in the nation's oil-processing hub attempt to climb out of a disastrous deep freeze.
Texas officials warned late Wednesday of shortages in the western part of the state along a 400-mile (645-kilometer) stretch of Interstate 10. Dozens of truck stops across Texas and nearby states closed this week because of power outages.
The shutdown of some of the nation's biggest refineries amid a historic cold snap tightened fuel supplies and lifted prices, but created another stumbling block for an industry already staggered by the pandemic-driven slump in energy demand. (See this list for the plants that stopped production.)
"The situation is very similar to a Gulf Coast hurricane's impact," AAA auto club spokeswoman Jeanette Casselano McGee said. "Refineries come offline, and until damage is assessed and operations are back up and running, supply is tight, especially with road conditions and power outages reducing fuel deliveries, if stations even have power to accept them."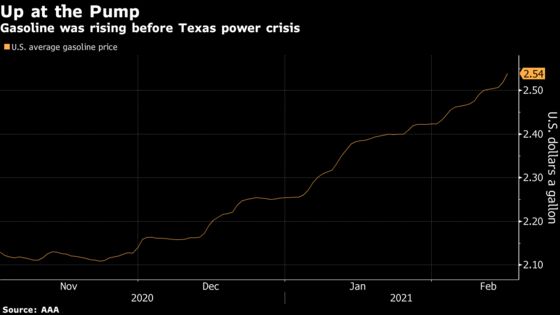 Gasoline prices already were on the rise before the winter deluge amid optimism about vaccine rollouts and the annual transition to summer-grade fuel. From New Year's Day through Wednesday, the national average price rose 28 cents to $2.54 a gallon -- an extra penny every two days.
The impact of the storm is likely to be seen from Houston to New York, which burns tens of millions of gallons of Gulf Coast-made gasoline daily. Gasoline inventories in the New York area are among the tightest in the nation.
"Until things thaw out and refineries are running again, we do expect more expensive pump prices across the country," Casselano McGee said.
Price rises will be kept in check some by drivers staying off the icy roads. Retail-price tracker GasBuddy estimated demand Monday was 14% below where it was a week earlier.
While motorists are paying extra, refineries will be making more. The production outages will probably mean a $2-a-barrel jump in refining margins to $17 in the next few weeks, up from the current $14.80, said Robert Yawger, director of the futures division at Mizuho Securities.
"This is the icing on the cake. This will super size the rally," he said.