Natural Gas Soars to $1,250 in Central U.S. on Supply Paralysis
(Bloomberg) -- There's no sign yet of a pause in the dramatic rally in natural gas prices across the central U.S., where spot rates have now breached the $1,000 mark, more than 100 times their level just a week earlier.
Prices for immediate delivery are skyrocketing as consumers scramble to find additional supply. U.S. production has fallen to a four-year low, causing a shortage that has left millions of homes and business in the dark and forced food giant Cargill Inc. to halt production at three of its meat processing plants in Texas.
Supply for next-day delivery at the Oneok Gas Transportation hub in Oklahoma traded at $1,250 per million British thermal units on Wednesday, according to David Hoy, a trader at Dynasty Power in Calgary. That's up from $999 on Tuesday, and just $9 a week ago.
At the Henry Hub in Louisiana, the delivery benchmark for futures in New York, spot gas traded at $20 or higher on Wednesday morning, according to two traders. That compares with a settlement of $16.13 on Tuesday and just $3.73 a week ago.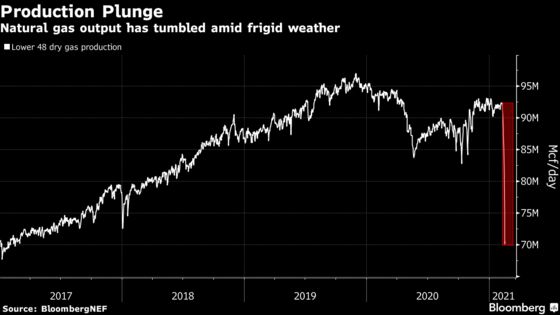 Gas production has plummeted by a fifth as frigid weather triggers blackouts and causes liquids to freeze inside pipes, forcing wells and processing plants to shut. The cold blast has also disrupted liquefied natural gas exports as terminals take units offline to reduce their power and gas demand in response to emergency declarations. Producers may still take a few weeks to fully restore supplies due to equipment damage caused by freezes, according to Charles Nevle, senior director for North American gas at IHS Markit.
"It could be into March before we see production return to pre-event levels," Nevle said.
Price movements have been more modest in the much more liquid futures market in New York. Gas for March delivery settled up 2.9% at $3.219 per million British thermal units on the New York Mercantile Exchange, extending this week's gains to 11%. The spread between March and April futures -- essentially a bet on how well supplied the market will be at the end of heating season-- rose to the highest since November.
Still, gains are being capped by concerns that prices above $3 will cause production to come back quickly and stronger once weather conditions improve, said Brayton Tom, a senior risk manager for energy at StoneX Group Inc. The drop in LNG exports has also weighed on prices, he said.
Most of the U.S. should see normal temperatures next week as the cold blast covering Central America is expected to recede, private forecaster Commodity Weather Group said in a report Wednesday.