Some Gas Flow Resumes After Canada Rupture Hits U.S. Refineries
(Bloomberg) -- Natural gas has begun flowing again on a smaller pipeline in British Columbia, after a rupture on an adjacent line forced oil refineries in Washington to cut output and pushed gasoline prices higher in the Pacific Northwest.
An explosion Tuesday on Enbridge Inc.'s Mainline gas pipeline curbed supply, rippling through energy markets in the Pacific Northwest. Enbridge said late Wednesday that it received permission from Canadian regulators to resume flow on a 30-inch (76-centimeter) line that is in the same right of way as the 36-inch line that exploded. The smaller line, shut as a precautionary measure after the rupture, will be returned to about 80 percent of normal capacity, Enbridge said in a statement.
Fortis Inc., a Canadian company that distributes gas from the system, said in a statement Thursday that the line has begun flowing, but it asked its customers to "avoid non-essential use of gas until the situation is completely resolved" because supplies are still tight.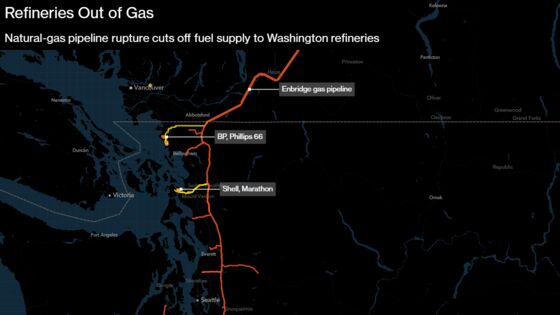 The Enbridge pipeline is part of its WestCoast Energy network, and carries as much as 2.9 billion cubic feet of gas a day -- supplying half of the demand from Washington, Oregon and Idaho -- from the Fort Nelson processing plant in northern British Columbia to the U.S. border. The 1,751-mile (2,818-kilometer) line connects to gas fields as far north as the Yukon and Northwest Territories.
Canada's National Energy Board issued an order late Wednesday local time saying that Enbridge could only restart the adjacent line at reduced pressure. The company can apply to resume full pressure, the regulator said in a statement on its website.
The line carries gas to refineries in Washington state to operate units that process crude oil into gasoline, diesel and other fuels, as well as to utilities in the region. Refiners use the gas to generate steam and power at their facilities.
Royal Dutch Shell Plc said Wednesday it was shutting units at its Puget Sound refinery north of Seattle after losing gas supply and Phillips 66 shut its refinery in Ferndale, Washington, according to the local fire department. They're among at least four refineries in the region that have been affected.
Wholesale gasoline in Portland, Oregon, jumped 11 cents Wednesday to 36 cents a gallon over New York-traded futures contracts, the highest level in more than a year, according to data compiled by Bloomberg. Diesel gained 5.75 cents. Retail market analyst GasBuddy issued an alert on Twitter that pump prices in Washington and Oregon could jump 15 to 30 cents a gallon over the next week.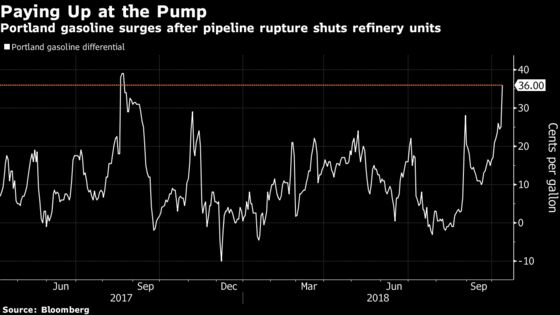 California prices also strengthened on speculation that fuel will be sent north along the coast to Seattle and Portland. San Francisco prices climbed 5 cents a gallon.
It's not just fuel prices being affected. With demand from local refineries down, Canadian crude sank to record lows relative to the U.S. benchmark, according to market participants. The refineries in northwest Washington receive oil from Alberta via the Trans Mountain pipeline, and any reduction would add to a glut in Canada.
The four affected refineries imported a combined 159,000 barrels a day of Canadian crude in July, government data show.
A small amount of heavy Canadian crude goes to Washington refiners, Kevin Birn, a director on the North American crude oil markets team at IHS Markit, said by phone. "Still, the entire western Canadian system is in a very fragile place at this time because of the surplus. There is no cushion left to absorb any bumps in the system."
Gas prices rippled higher across the Rockies into the Midwest, a trader said. The Chicago City Gate price jumped 12 cents to 13 cents per million British thermal units right after the rupture.
The Enbridge rupture is cutting flows to the Northwest Pipeline system, the primary artery for natural gas delivered to the U.S. Pacific Northwest and Intermountain region. Williams Cos., the conduit's owner, said in a website notice that it's asking customers to reduce loads to protect the integrity of the line.
Fortis said Wednesday the rupture may cut gas supplies to as many as 700,000 customers in Vancouver and other parts of western Canada. In Washington, utility owners Avista Corp. and Puget Sound Energy asked customers to curtail usage.
Marathon Petroleum Corp. is running units at its Anacortes facility at minimum rates, according to a person familiar with the situation. A spokesman for BP Plc's Cherry Point had no immediate information. It was one of several companies that notified the Northwest Clean Air Agency that they have curtailed operations, Seth Preston, the agency's spokesman, said by phone. Trailstone Group said its Tacoma refinery hasn't been affected.