Massachusetts Taps Rival Utility for Pipeline Blast Recovery
(Bloomberg) -- The Massachusetts governor declared a state of emergency after explosions along a natural gas distribution system operated by NiSource Inc. killed one person and injured more than 25 others. He tapped another utility owner to oversee the recovery.
Eversource Energy would now be "in charge," Governor Charlie Baker said at a news conference. The move came after local officials criticized the operator of the pipeline system, NiSource's Columbia Gas of Massachusetts, for responding too slowly.
"We heard one thing, and something else happened," Baker said. Declaring a state of emergency gives the state authority to appoint a different company to manage the response, he said.
Columbia Gas President Steve Bryant apologized for the incident, saying it was "the sort of thing that a gas distribution company hopes never happens." The company respects Baker's decision to bring on Eversource but rejects claims that it didn't respond quickly enough, Bryant said.
"There's no one else who could have acted on this more rapidly than we did," Bryant said.
NiSource shares fell almost 12 percent Friday, the most since 2001.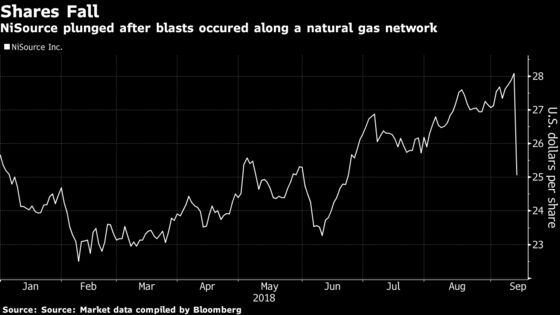 Columbia Gas has had seven violations totaling $100,000 since 2010, according to an email from Peter Lorenz, communications director for Massachusetts's Executive Office of Energy and Environmental Affairs. The violations included inadequate gas standards, improper pressure testing and failing to follow procedures and federal pipeline safety regulations.
The blasts erupted Thursday afternoon on the network in Lawrence, Andover and North Andover. Massachusetts State Police reported 39 incidents, and the National Transportation Safety Board said the blasts appeared to be pipeline explosions.
Lawrence Mayor Dan Rivera blasted Columbia Gas's response in a news conference Friday, saying the company was the "last to act" after the incidents. Rivera said Columbia Gas was slow to react because it didn't want to "foot the bill."
NTSB Chairman Robert Sumwalt told reporters in Washington the agency sent a "go-team" of investigators to the area. The inquiry will include looking at the design of the pipeline, any recent maintenance or upgrades and the integrity of the management system, he said.
"This will be a multidisciplinary investigation," Sumwalt said.
Leonel Rondon, an 18-year-old from Lawrence, died after an explosion sent a chimney crashing into his car, the Associated Press reported. Thirteen people were treated at Lawrence General Hospital for injuries, officials said.
One person remained in critical condition and was transported to a Boston trauma center, officials said during a press conference. Another was in serious condition, they said.
Officials believe the blasts were caused by over-pressurized gas lines, Andover Police Department Lieutenant Eddie Guy told NBC's Today television show Friday morning.
Columbia Gas said in a statement that crews would visit each of the 8,600 affected customers to shut off gas meters and carry out safety inspections. Bryant said every home would be visited by the end of the weekend.
Since 2007, units of NiSource have had at least five explosions on pipeline networks, in Kentucky, West Virginia, Tennessee and Louisiana, according to news reports.
National Grid Plc, which operates the electric utility in the area, was asked to shut power to all of Lawrence, North Andover and pockets of Andover, spokeswoman Christine Milligan said. The supply cuts were affecting more than 18,000 customers as of 2:09 p.m., National Grid said on its website.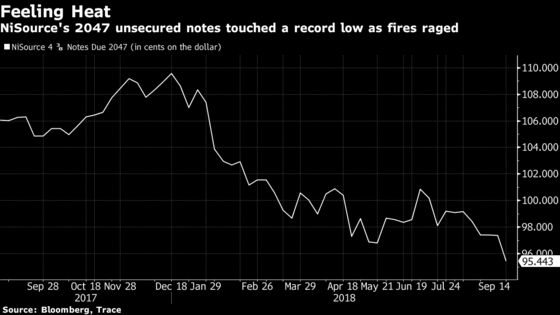 In April, Columbia Gas filed a petition with the state's Department of Public Utilities to increase annual revenues by $24.1 million in part to help the company replace aging infrastructure. All three towns were listed as areas where neighborhood lines would be replaced, the utility said on its website Thursday.
"Replacing leak-prone infrastructure is a leading priority," the utility said in April. "However, it will take a number of years to eliminate the aging pipe from the gas distribution system."