Gap Analysts Say Scrapped Spinoff Is Just What Investors Wanted
(Bloomberg) -- Gap Inc. rose ahead of the opening bell as analysts applauded the retailer's decision to scrap its spinoff of Old Navy.
Critics of the plan cited concerns over Old Navy's recent streak of weak comparable sales and the high costs related to establishing the brand as a standalone. Gap's decision to reverse the plan was accompanied with a brighter forecast for 2019 results.
"We wholeheartedly agree with this decision," BofA analyst Lorraine Hutchinson said.
Bearish investors may also be looking to cover positions, with recent short interest at around 18% of float, according to data from S3 Partners. Gap shares have fallen 27% since the spinoff plan was first announced in late February.
The shares climbed as much as 6.9% in pre-market trading, before paring some of those gains.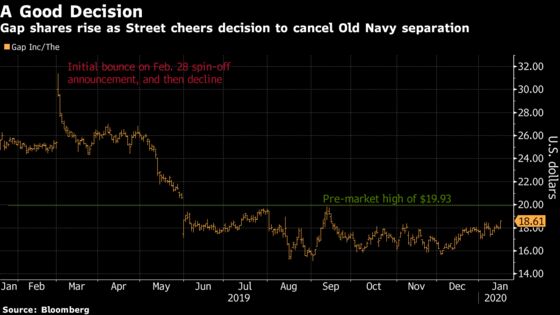 Here's more of what analysts had to say following the retailer's announcement:
"Stock upside is likely both on raised guidance and better-than-feared comps and margins, in addition to elimination of dis-synergies from a potential separation."
Chen believes it was difficult to justify the Old Navy separation given the declining comparable sales as well as ongoing merchandise issues in the highly competitive women's category.
Meanwhile, "combined dis-synergies of $160 million to $200 million at Old Navy and Gap were drawing focus away from the company that needs to prioritize delivering better execution."
Chen remains cautious on "soft traffic trends across brands, ongoing product misses, and the highly promotional environment." Gap continues to have a lot of work ahead to drive consistent performance and rightsize the store footprint.
Rates market perform, price target $18.
"With a pivot back to fundamentals as the driver of stock performance, we expect Gap shares to shift back to a show-me story once the dust settles."
With shares down 31% in 2019, investors were skeptical of the value generation potential associated with an Old Navy spin, particularly as the brand turned negative. Further depressing the valuation was the cash flow implications from the $700 million-$800 million in outlays in support of the spin.
She anticipates that a portion of those technology and advisory costs will likely be repurposed as they strive for more radical, "catalytic" changes to improve profitability of specialty brands Gap and Banana Republic.
The search for a new CEO is a key piece of the turnaround. Fitzsimons expects the decision around a future leader will be helped now with the Old Navy situation settled.
Based on Gap's higher forecast, driven by a "less worse" Old Navy performance, she tweaked her estimates slightly higher and boosted her price target to $17 from $16. Her rating remains at sector perform.
Credit Suisse, Michael Binetti
Gap's board of directors probably realized that "the market does not need two standalone negatively-comping specialty apparel retailers."
"Optically, canceling the spin removes a negative." However, the company is now left with three negatively comping brands and a leadership vacuum as the CEO was removed in November, the Gap brand CEO is leaving and there's been significant talent departures from company in recent months. The Old Navy strategy is flawed, with plans to about double the banner's North America store count, even with negative comparable sales.
Despite Gap's mention of more stable holiday promotions at Old Navy, Binetti suspects that there's "still no obvious near-term
path" back to positive Old Navy comps, which likely played a role into the decision to halt the spin.
Binetti doesn't expect the market to "easily re-embrace a narrative about integration" as Gap had spent nearly a decade "driving the narrative of the value of integration of these brands" before attempting "reverse that negative to highlight the value of separating these brands."
Rates underperform, price target $14.
B. Riley FBR, Susan Anderson
The canceled spin is evidence that management "lacks a unified view of strategic direction."
Meanwhile, the updated year forecast leads her to believe that Old Navy's "continued outperformance may have played a role in the decision to withdraw the idea of spinning off the segment."
Rates neutral, price target $18.